Math, Church, & Grand Central (NYC Part 4)
Well, it happened. I am very definitely sick on this trip. I think with all the exertion at Rumble, plus all the walking and being in close contact with other people on the train yesterday, I've made my system primed and ready to catch this bug.
I slept in later than planned while Alex left on her own to go hang out with her cousin Bogdan again. This worked out anyway, because I wanted to let the two of them have some time to catch up on their own. I eventually hauled myself out of bed and became another sick person on the train to Manhattan.
My logic: exert myself now, even if it makes me a little sicker, because today is my last day in New York and I want to make the most of it. What's another couple days sick in bed back home? I stand by this decision.
(The date: 2018-02-04)
Manhattan (Daytime)
I had some delicious, rejuvenating Five Guys in Manhattan and then just walked around for a while. I love these buildings so much.
If it weren't for this damned winter season, I could live here.
National Museum of Mathematics
Alex and I met up on the steps in front of the National Museum of Mathematics, and then went inside together. This place looked so cool, fun for children and adults, and we went in ready to have fun.
And boy did we ever!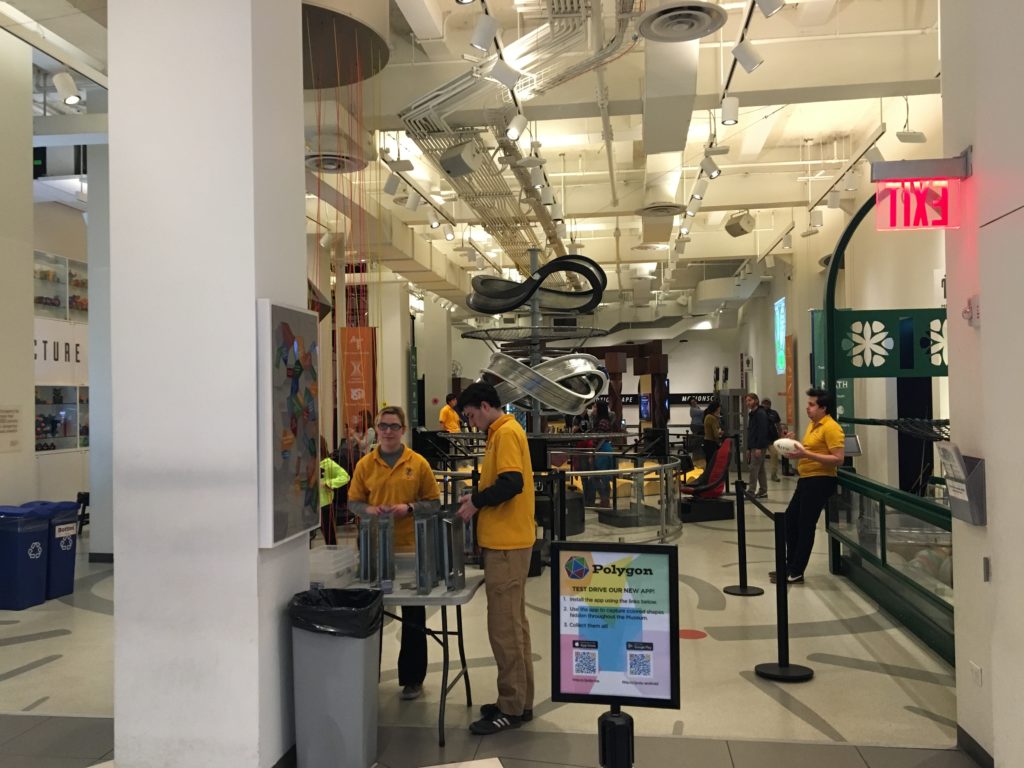 There was a ton of crazy fun stuff to do in here. Bizarre geometric bike rides, balancing games, light shows, puzzles… wow. That thing in the middle of the last photo with the metal tracks was actually a set of courses for little remote cars to drive on, and they each had cameras that you could see out of. In the below photo, you can see the blue thing on the track is our "car," and you can see me and Alex at an angle in its camera.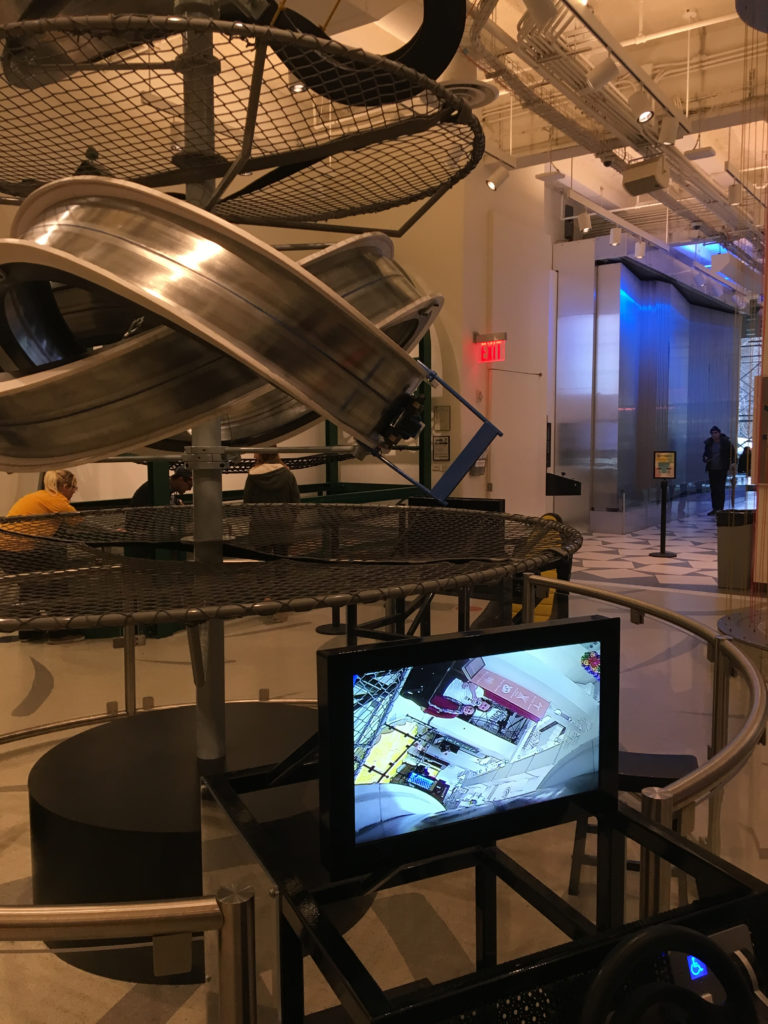 There was also a rotating chair that would swivel all the way around again and again and again but never fall, and a machine that would let you draw a design, turn it into a repeated pattern, and then project it onto you.
There were machines that would measure your velocity or your acceleration and make you control them precisely. Machines that projected games over the floor that you'd have to jump around on. So many crazy machines! We spent a couple hours here and saw everything possible, but I would still go back again just because it was really that incredible. This was one of the neatest museums I've ever been to.
The staff was helpful and friendly and knowledgable too, which helped a lot.
Oh, and one last thing, the very best part – a machine that would make you into a fractal by putting you against a blue screen, figuring out where your arms were, and then projecting a display of you with your body replacing each of your arms… and on those smaller bodies, more of your bodies replacing your arms… until it couldn't anymore, so it was like your body was sprouting off into trees made of more of your bodies. And it did it in real time, so you could move and sway and swing your arms and it would respond accordingly. Totally wild!
New York Public Library
We went to the library right as it was closing, unfortunately. We managed to get inside and take a few quick pics anyway.
That's on the list to return to more thoroughly next time.
St. Patrick's Cathedral
Alex has a love of ornate old churches. I also love seeing the architecture and all the detail put into the designs. So St. Patrick's Cathedral was an obvious must-see.
Check out these amazing arches:
I was awestruck being surrounded by such majesty. It was a very moving experience walking around all this beautiful handiwork.
Here's the church from the very back. We wanted to go down into the catacombs beneath but they were unavailable at the moment.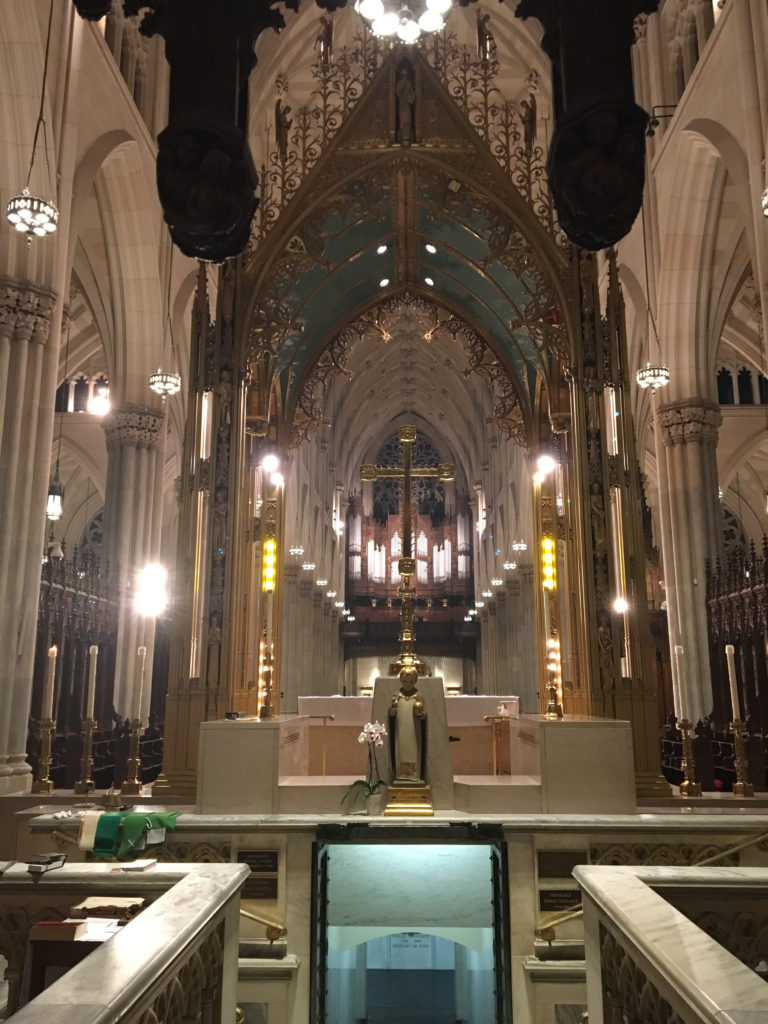 The cathedral is also lined with shrines to saints that are some of the most intricate things I've ever seen. There were so many, all beautiful and unique, and I was somewhat familiar with a fair number of the saints.
Manhattan (Nighttime)
When we stepped out, it was dark, with mist in the air and water on the streets that made everything seem dystopian, futuristic, and a little cyberpunk. Or maybe it was just me. I don't know, when I see stuff like this – the MetLife building obscured by the fog, with lights reflecting off the street – that's just where my mind goes.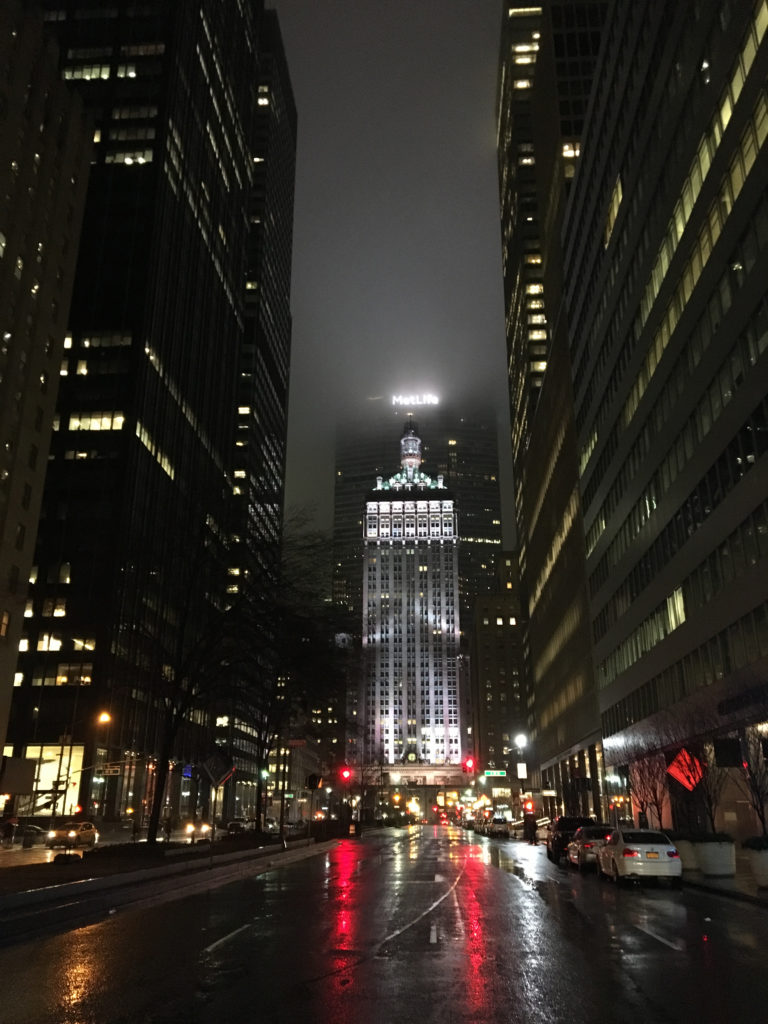 Also the Empire State Building again, nice and noir:
I could definitely imagine what it would like to be a hardboiled detective with a cybernetic arm here.
Oh, and we also saw the Rockefeller Center aka 30 Rockefeller Plaza aka 30 Rock, which is special to me because I so love the 30 Rock television show, and Alex and I are watching through it right now. I could almost hear the theme music playing while we walked around it. The art was even more majestic than I expected.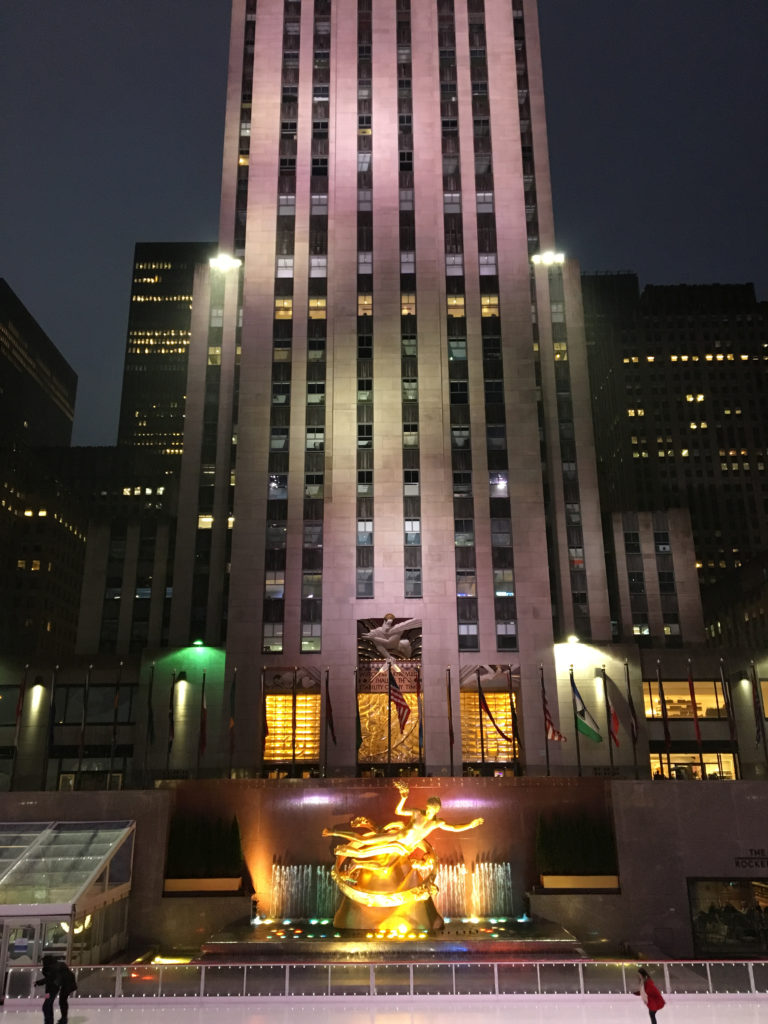 The last stop for the night was Grand Central Terminal. This is a huge train station with, yet again, more amazing architecture and a stellar ceiling.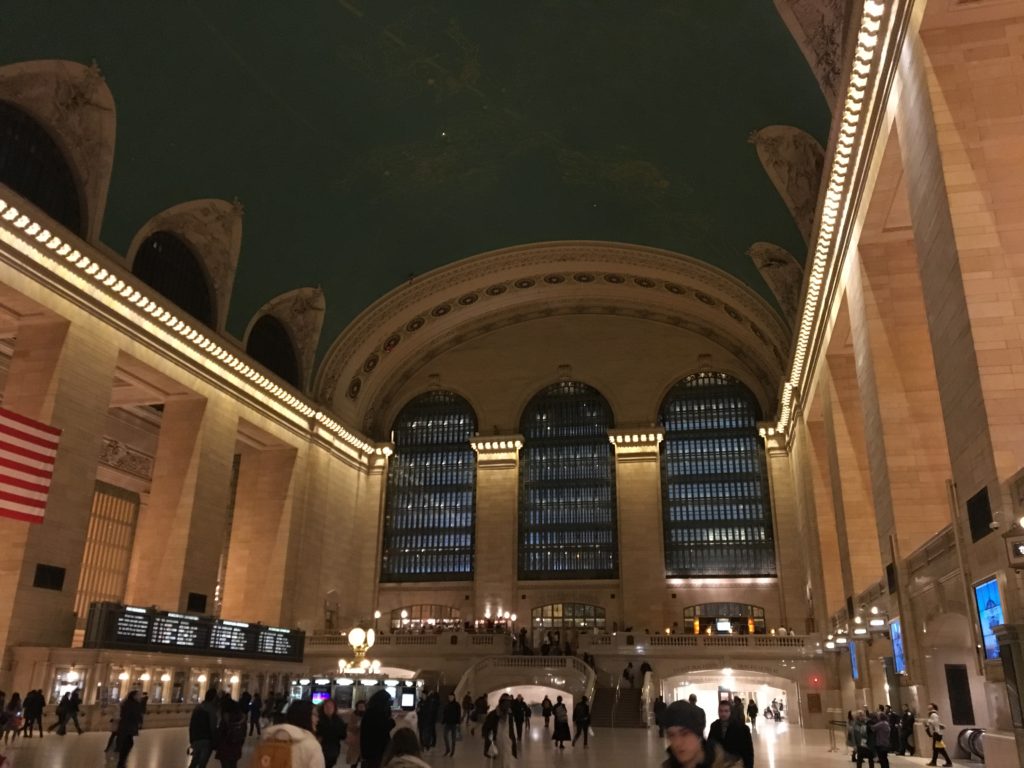 I was already intimately familiar with the layout of Grand Central Terminal thanks to a Spider-Man video game. However, in real life, everything seemed a lot less fragile… probably for the best.
We were more exhausted than ever, our feet were aching, and don't forget that I was still plenty sick. After exploring here a little while, we got a quick snack in the basement.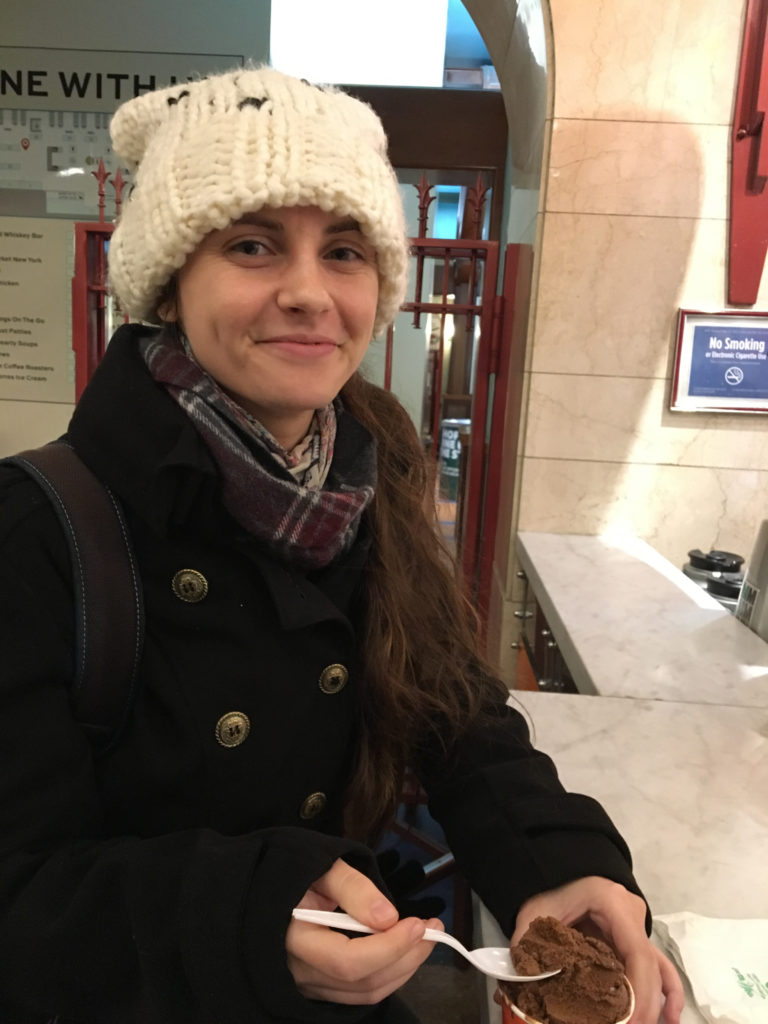 Then we got a lyft as soon as a downpour began, and mercifully got back to our Airbnb to rest. Our day:
PHEW.
The End
2018-02-05: We woke up, finished packing, and lyfted back to JFK with plenty of time to spare.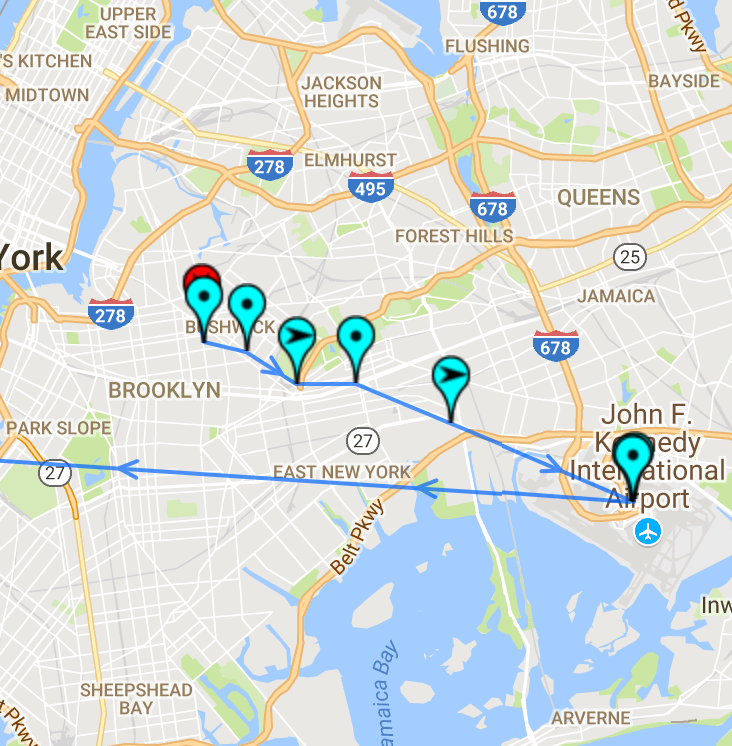 On the flight, we noticed something odd outside the window. Three VERY bright lights in the middle of nowhere in the mountains.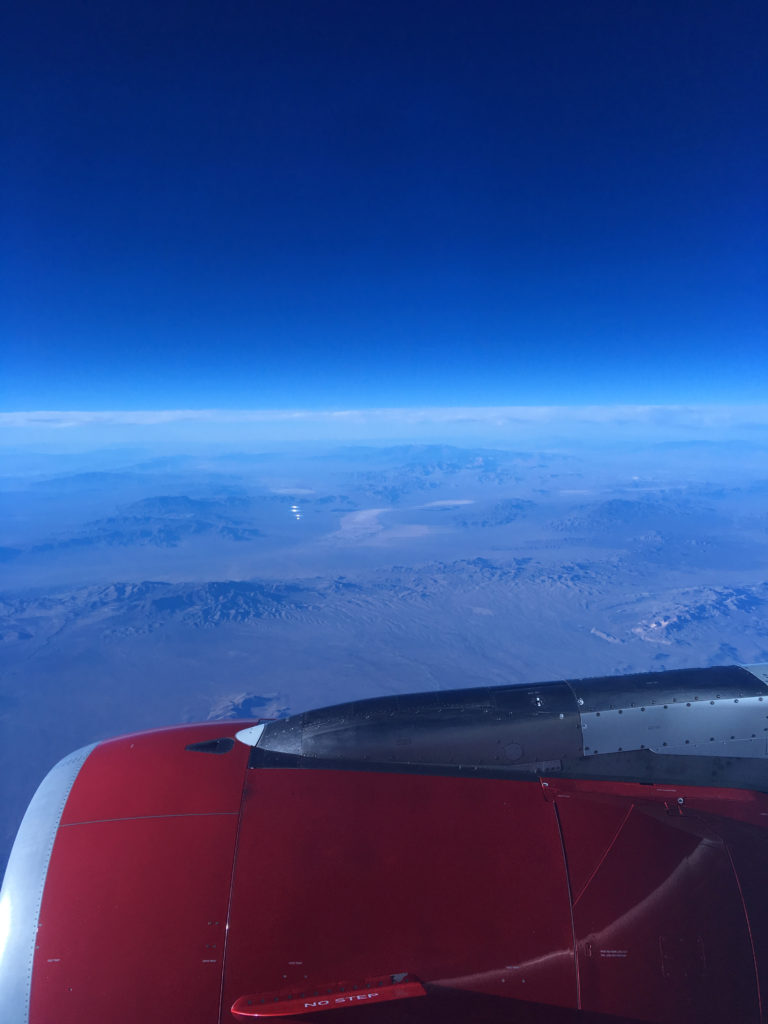 It was hard to tell exactly where we were at the time, but we were roughly over places with names like Dolan Springs, Bullhead City, Mohave Valley, Needles, and more closely, probably Sandy Valley and Goodsprings. We couldn't get much of a closer look.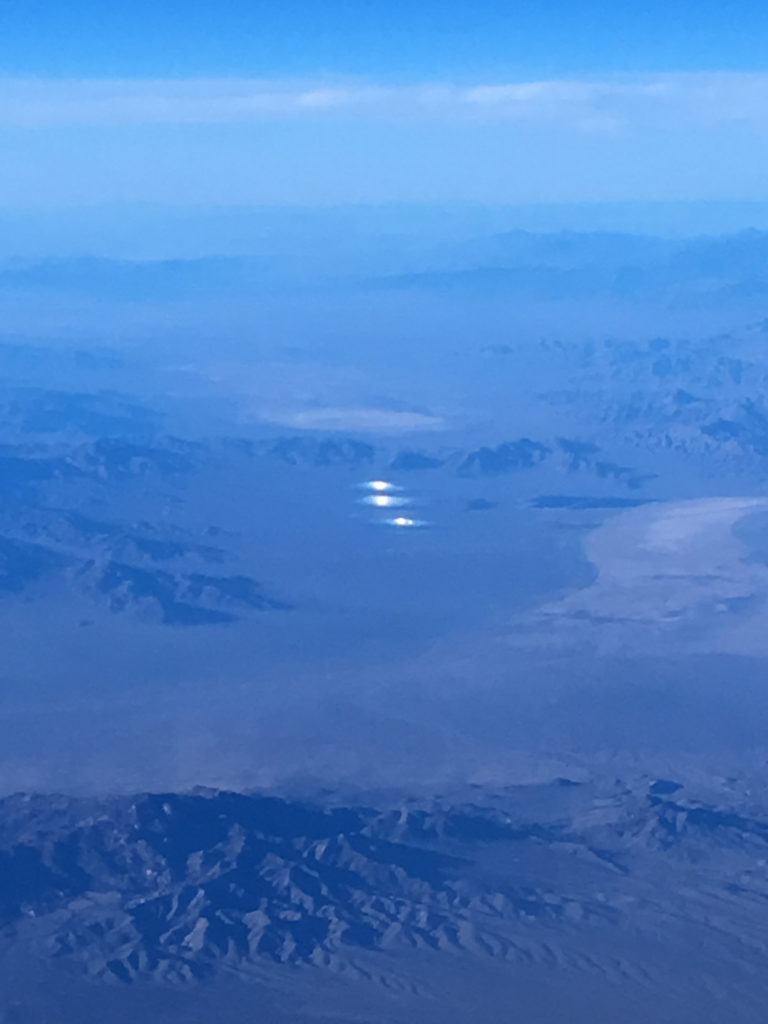 So… who knows? I guess we're not the Hardy Boys.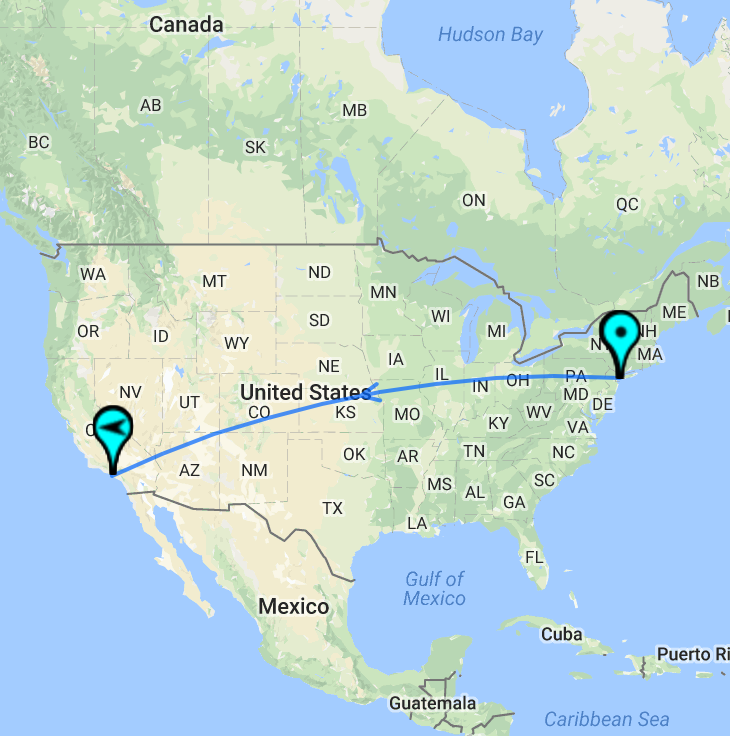 We landed at LAX in no time, lyfted back to my place, Alex went back to hers, and I spent the next few days in a daze of DayQuil and NyQuil until I finally got better around 2/13.
Worth it.