Razorfish & Rumble in NYC (Part 2)
2018-02-02: After a somewhat tumultuous start to our New York City journey, we started Friday with optimism in our hearts and winter jackets over our shoulders. It was cold here in New York City in February. I had forgotten what real cold felt like after living in Los Angeles for a couple years. (Alex was okay.)
In truth it wasn't even that cold, it was about 30-40 degrees Fahrenheit, which wasn't really that bad. When I called my parents in Wisconsin during this trip they reported it barely even got above 0 degrees, so what did we have to complain about?
Alex and I rode the MTA for the first time!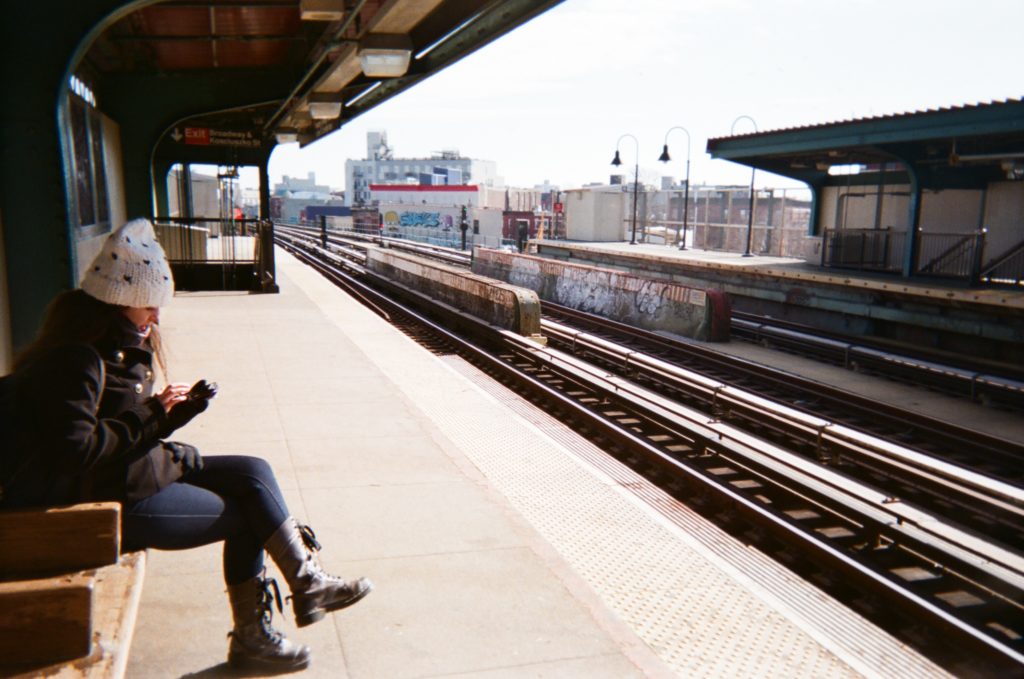 SapientRazorfish Office
Since my employer is a global company with offices everywhere, I make a point to check out every office I can when I travel. My employer is SapientRazorfish, or Publicis.Sapient, depending on the day – owned by the Publicis Groupe.
Here I am outside the office building: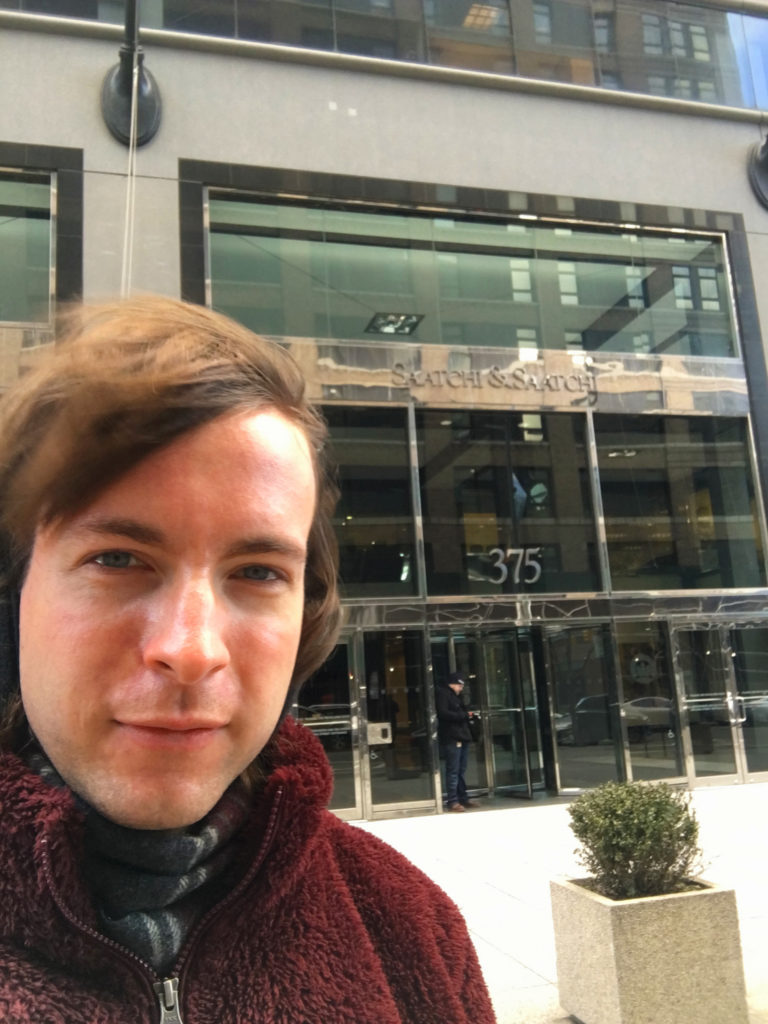 Yes, the outside of the building says Saatchi & Saatchi – that's another company that Publicis owns. It's very confusing working here.
Inside the entryway: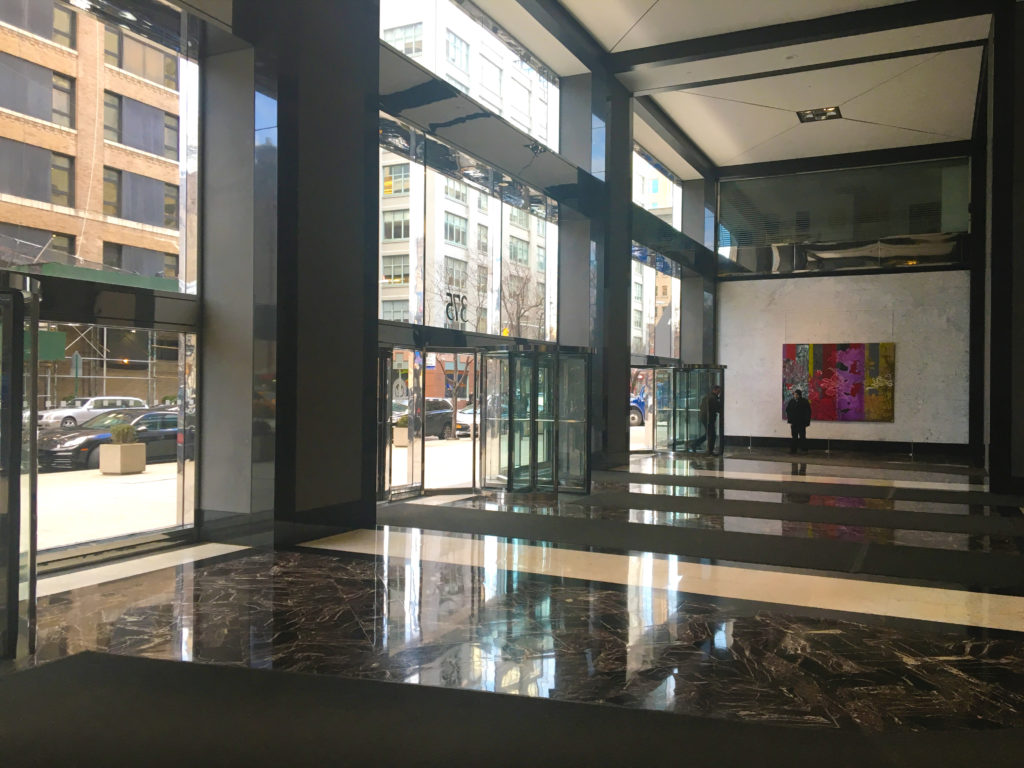 The office itself was very nice. I actually met a couple of my SEO coworkers, Ben, Sabrina, and Kevin. Unfortunately Sean and Astra weren't in the building that day. This makes my second office this year so far, after the Santa Monica office last month.
I walked to get lunch at Trademark Burger, a few bone-chillingly-cold blocks away, and saw all kinds of lovely NYC scenery. I love the buildings and skyscrapers and the city vibe, it's totally my kind of place if it were only 40 degrees warmer.
Trademark Burger was delicious, by the way – I had a burger and a hotdog. It was a cozy little garden unit restaurant and I'd go back in a heartbeat.
I got the full tour of the Publicis office, inside and out.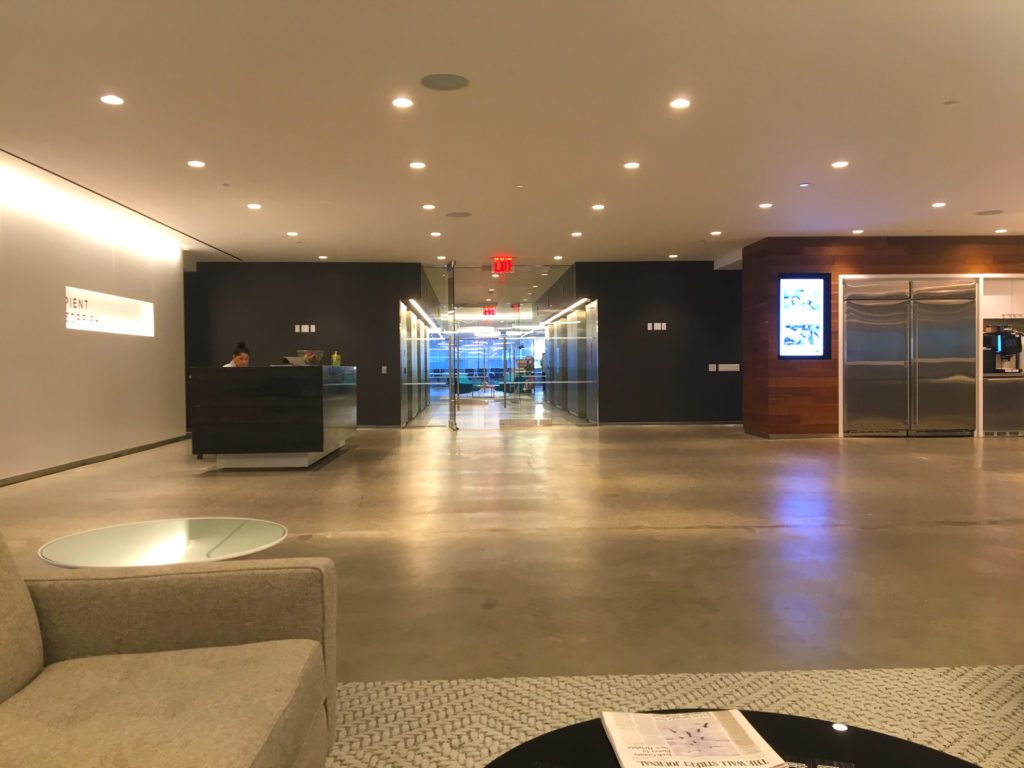 Great views all around!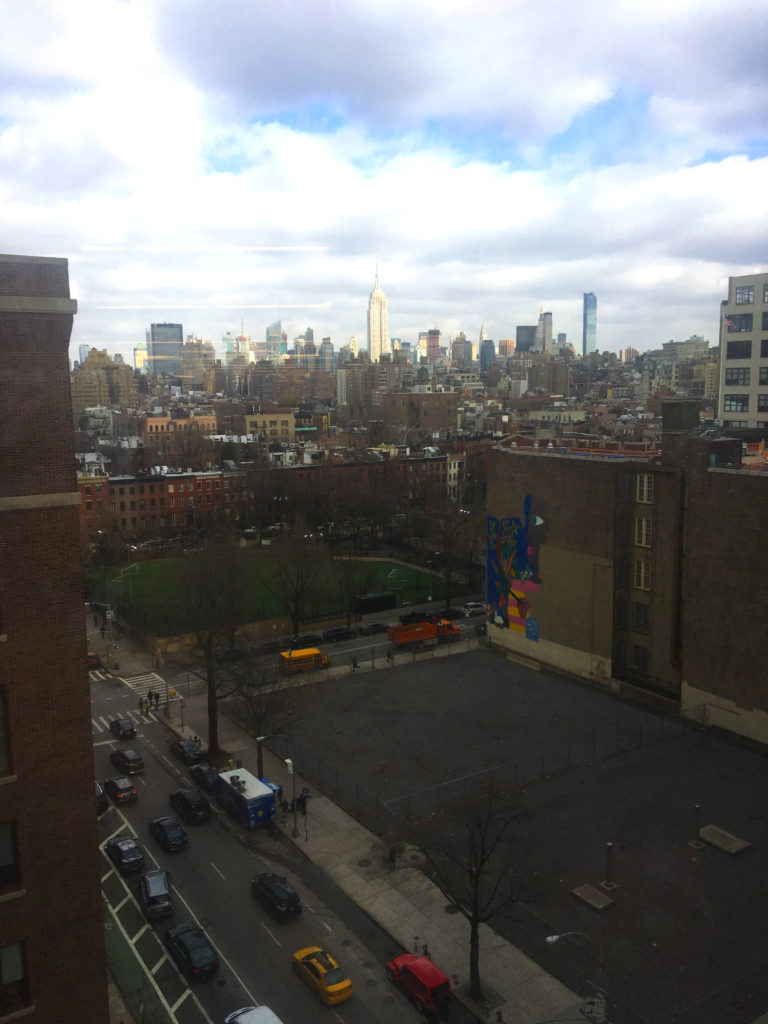 There was even technically a view of the Statue of Liberty from one side of the building, but it was so far away that it was just a little dot, nothing I could capture with my cell phone (or even my eyes, really). That was the closest I was to get to the Statue of Liberty this trip.
During this time, Alex was exploring on her own around Manhattan. Here's my path from the last 24 hours – the flight in, to the Airbnb, the hunt for food last night (both around "Bushwick" on the map), and then the trip to the office so far: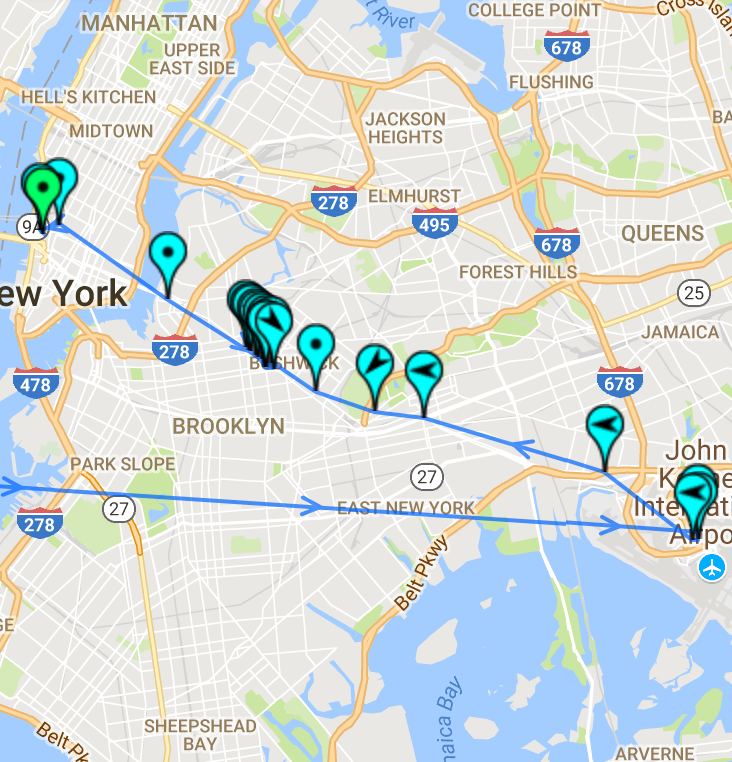 Rumble Boxing
One of my top priorities in New York City was to check out the Rumble Boxing gym. The boxing sounded cool, but I mostly wanted to go because I'm friends with one of the trainers, Kory Flores. We used to live in the same town, Eau Claire, except oddly enough we met online, and had only ever met in person once before when I was living in Chicago and she was visiting. That was years ago. Now it was my turn to visit her.
I changed into my workout clothes and got a pair of Rumble gloves, and took her boxing lesson along with 5-10 other people, most of them regulars. I'm in good shape, but this boxing lesson kicked my ass. It was one of the most intense workouts I've ever done! I was able to get through it without stopping or taking any breaks, and of that I'm very proud. But I was absolutely winded by the end of it.
Alex joined up with me after the class, and we talked with Kory for a little while afterwards.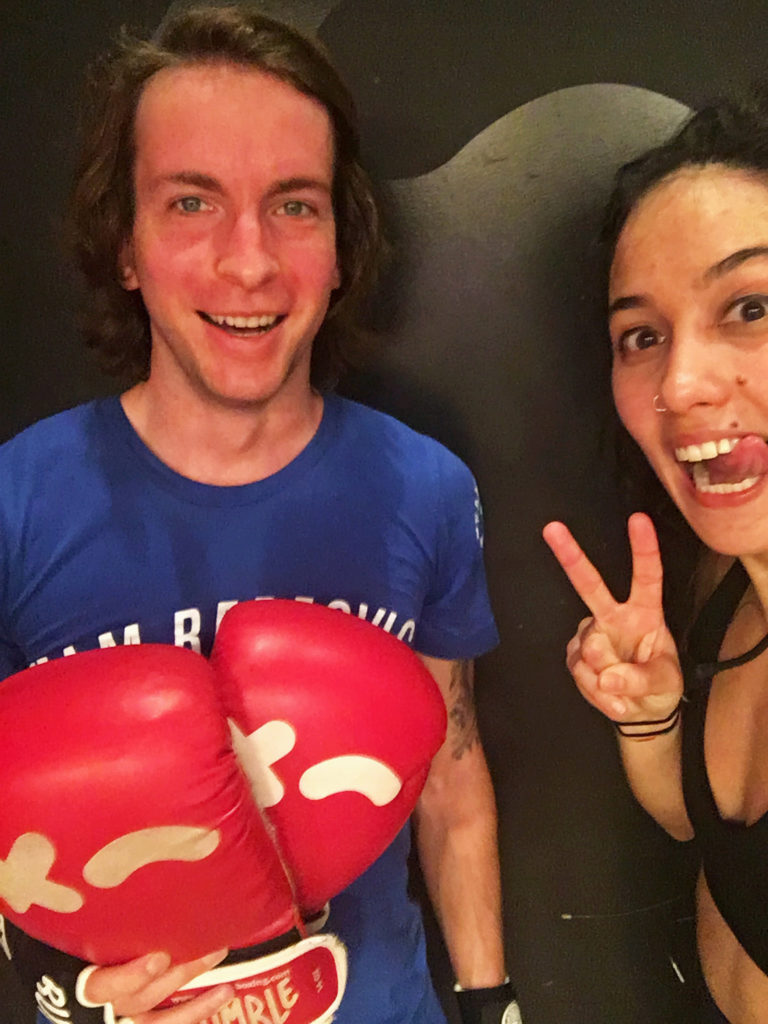 Seriously, folks, I can't recommend Rumble Boxing enough.
Empire State Building
I was a hot and sweaty mess after Rumble, so it was a shock to my system to put on a ton of winter layers and then walk out into the icy cold night. In fact, just the act of walking itself was a little hard after the strenuous workout I'd just received.
Still, I toughed it out, and Alex and I walked through the beautiful buildings of Manhattan, up to the Empire State Building.
The gold hallways and interior decorations in general really blew me away more than anything else. I had no idea the inside was so fantastic. The art deco stylings were fabulous. We read the displays and learned all about the restoration project.
Brooklyn
We ended the night back in Brooklyn at a place called the Gallery Bar, which was suitably divey for my tastes. We caught the back half of the worst stand-up comedian I have ever heard.
"Y'know… Mr. Freeze? My friends call me that… except instead… they say… 'freeze… mister…'"
It was so bad it was actually pretty hilarious.
After a couple drinks we made a cold dash back to the Airbnb and ended our Friday. More to come tomorrow.