Lauren in LA: Art, Balls, Cats, and More
2018-01-25 – 29: My good friend Lauren flew into Los Angeles to visit me for a few days. She's a college classmate I know from Chicago, but now she lives in Rochester, NY. I had visited her last year, so it was her turn this year.
Lauren is heavily into the lolita fashion culture, especially gothic lolita, so she wore all kinds of fantastic outfits while she was here. You'll see it in most of the photos of her below – it's wonderful!
Day One
Lauren's first night just so happened to coincide with a "black and white masquerade"-themed party my office was throwing. Costumes were encouraged. Since both Lauren and I like dressing up, this was the perfect opportunity.
The funny part was that since I work from home, I don't know a single person who works at the Los Angeles office. So, mask or no mask, no one would know who I was anyway. We sorta felt like we were crashing the party, but I was technically invited. They gave out little "awards," including "Most Likely to Work From Home," and I didn't win it because nobody even knows who I am because I only ever work from home. Ironic.
It was a fun time. I was the second-best-dressed person there. Lauren was far and away the best. She had told me ahead of time she'd be wearing a moon-themed dress so I coordinated with a lapel pin.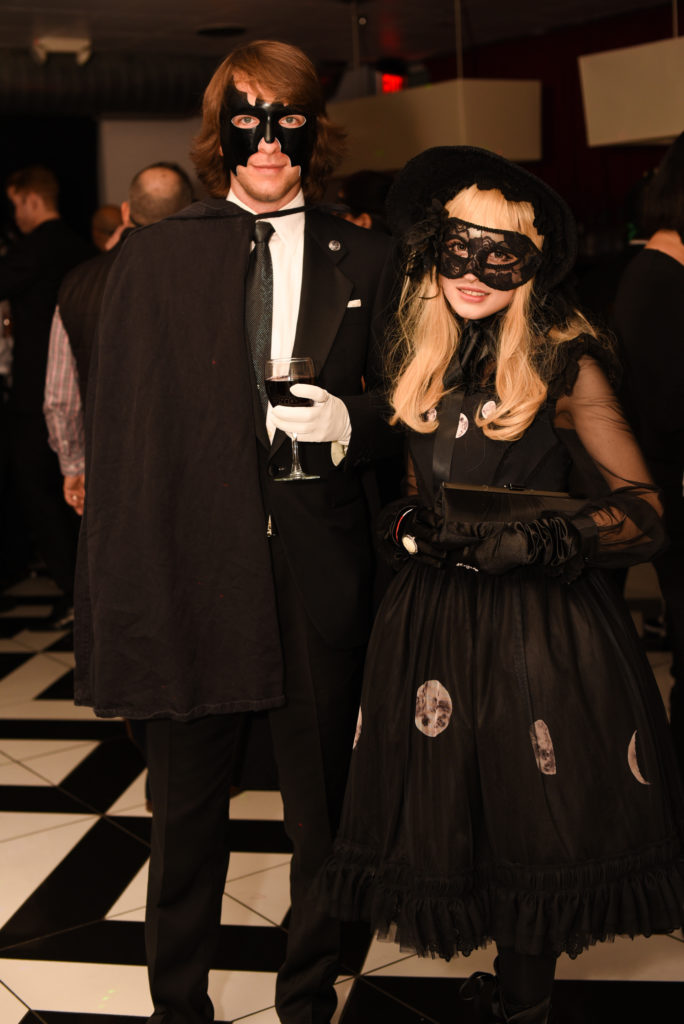 The event was held at the Lincoln Speakeasy, which was a little hard to find at first, but had a great vibe. I did end up recognizing one person there – the receptionist at the Santa Monica office I'd just been to.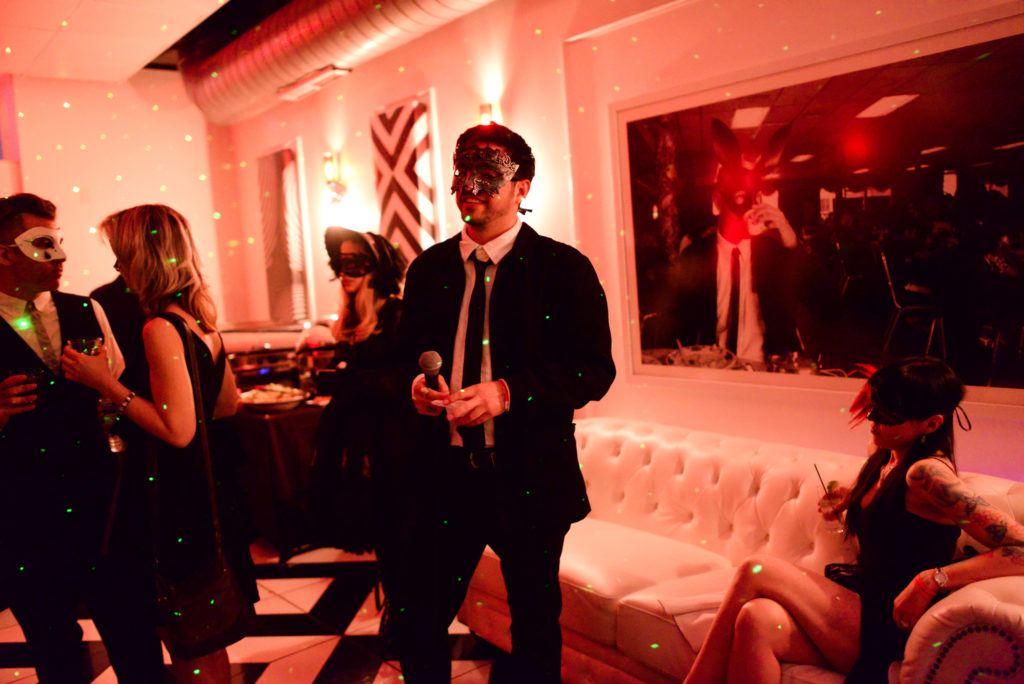 One person I met here ended up being placed on a project with me a couple months later, so it was convenient that we'd met here first – even if I did probably talk his ear off after a few extra free drinks. Lauren and I are on the far right below: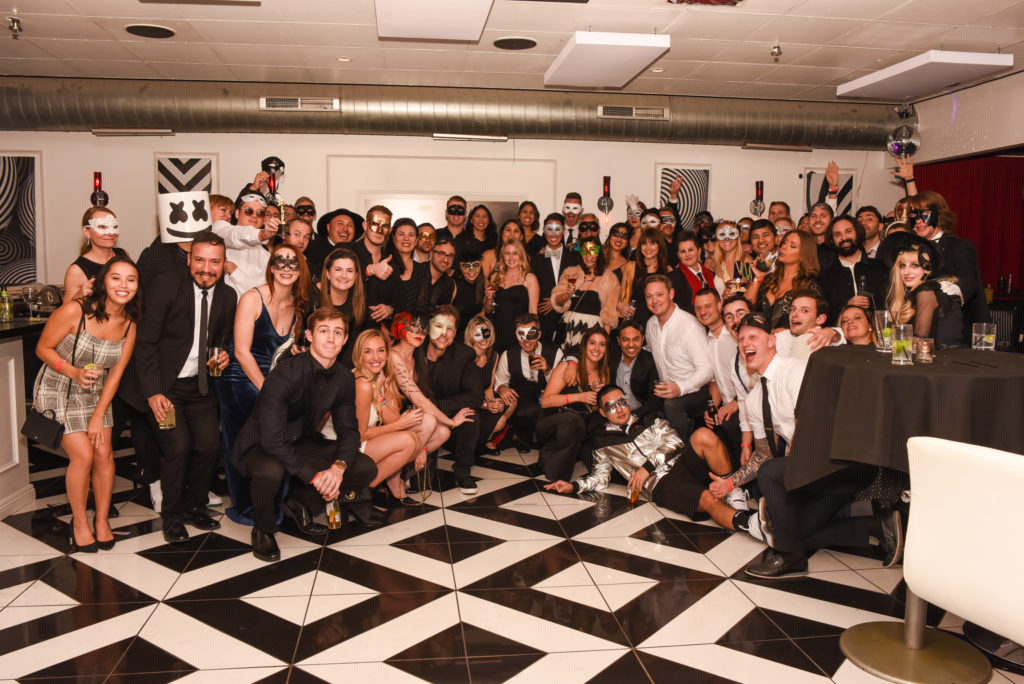 Day Two
I wanted to show Lauren some classic "LA" places since she'd never been here before. So first we went up to the Grove.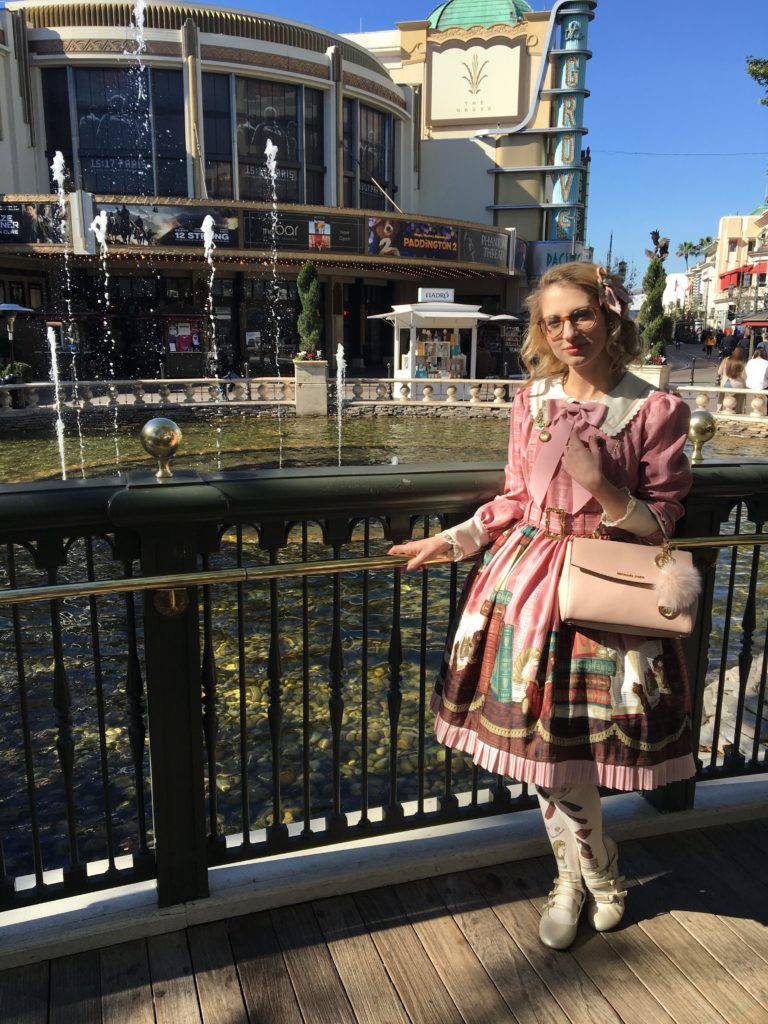 It was a little too early for most shops to be open, but that was fine – we didn't want to do shopping, we just wanted to sightsee. Next we walked the short distance up to Melrose Avenue, where I showed her some of the bizarre fashions and stores out here. Definitely a lot of weird new things up there.
Lauren runs a radio show up in Rochester on WAYO 104.3FM called SE/EA Beats. It plays Southeast/East Asian music, 1960s-today, with a wide variety of genres. So she was eager to stop into a record store we found on Melrose and hunt for more obscure music to play.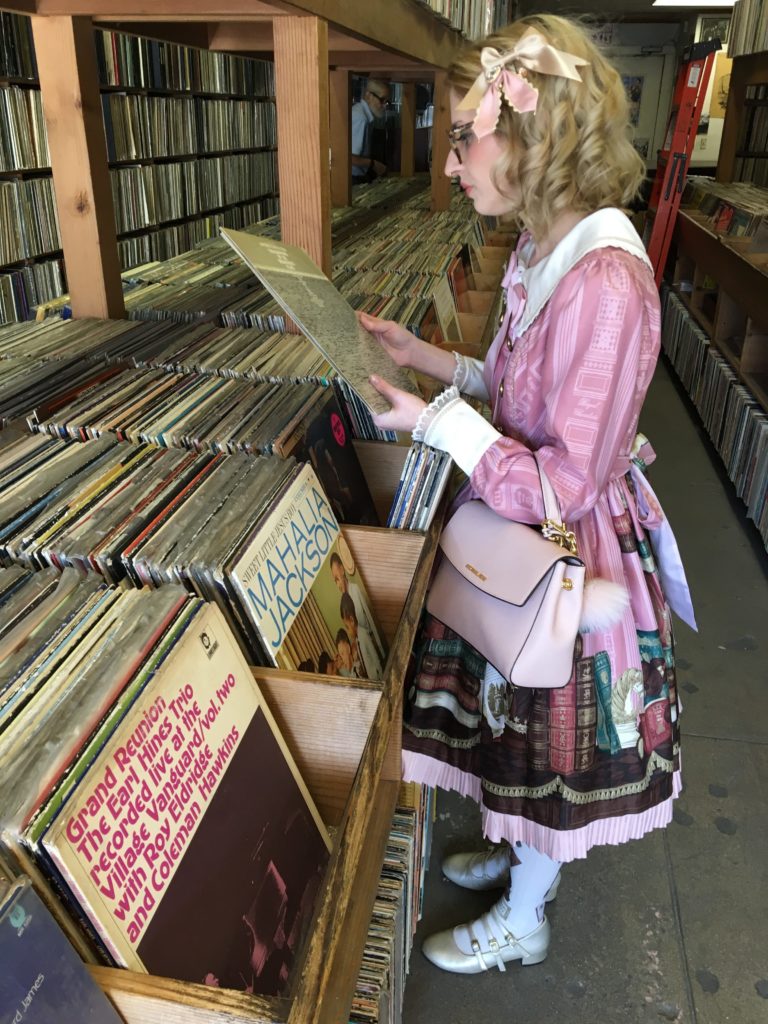 Unfortunately it wasn't the best stop. The pair of old guys that ran it were pretty condescending.
After strolling around for a while longer taking in some sun, we went to the day's main attraction: the Crumbs & Whiskers cat café. This is one of my favorite places. If you don't know, cat cafés are simply rooms with furniture and also a lot of cat toys, that have a bunch of cats running around playing with anyone who comes in. With Crumbs & Whiskers you have to book a time slot in advance. You order coffee and hang out and play with all the friendly cats. It's so much fun.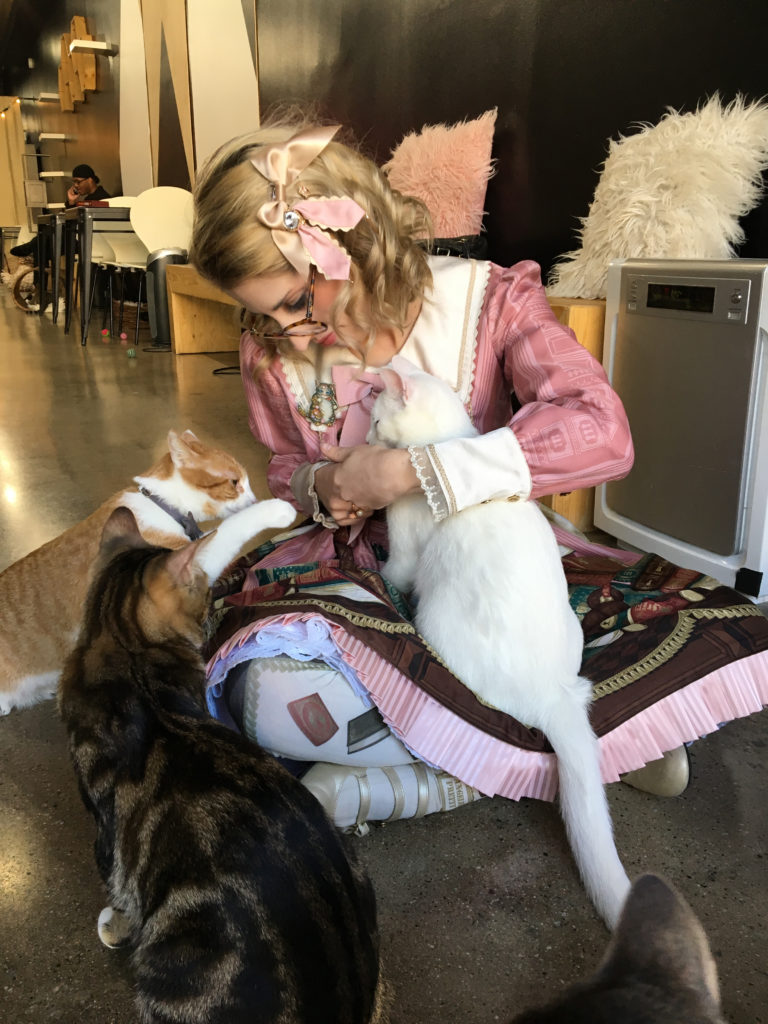 Crumbs & Whiskers legally can't make the coffee it serves on the same location it has the cats. It has to take orders to a nearby coffee shop. Unfortunately it's a few blocks away so the service is pretty slow and the coffee doesn't arrive as hot as it could be. It's my one complaint about the place. But you don't really come there for the coffee anyway – you come for the cats. And the cats never fail to make it a great time.
This place does a lot of good for getting these cats adopted, getting cats off the streets, and giving to animal charities.
Afterwards we hit my all-time favorite burger spot in LA, Irv's Burgers.
Later on we went out to one of my favorite bars in West Hollywood, Now Boarding, and checked out a few other "interesting" stores nearby too. We met up with Alex and Alex's friend Jess for drinks and a great night.
Day Three
Alex picked Lauren and I up and drove us out to the Santa Monica Farmer's Market, and then we took Lauren to another Los Angeles destination, Santa Monica Pier.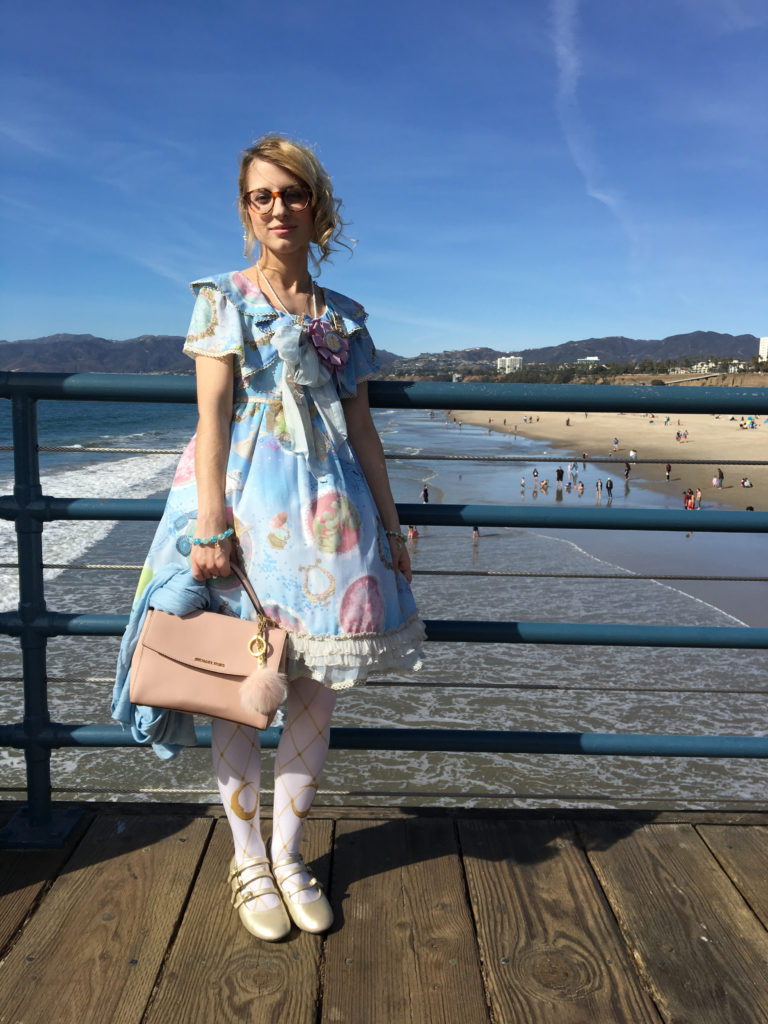 This was Lauren's first time ever seeing the Pacific Ocean!
The Santa Monica Pier is a popular tourist destination, so it's very crowded and commercialized and not exactly the most creative place to go, but I still think it's worth seeing once.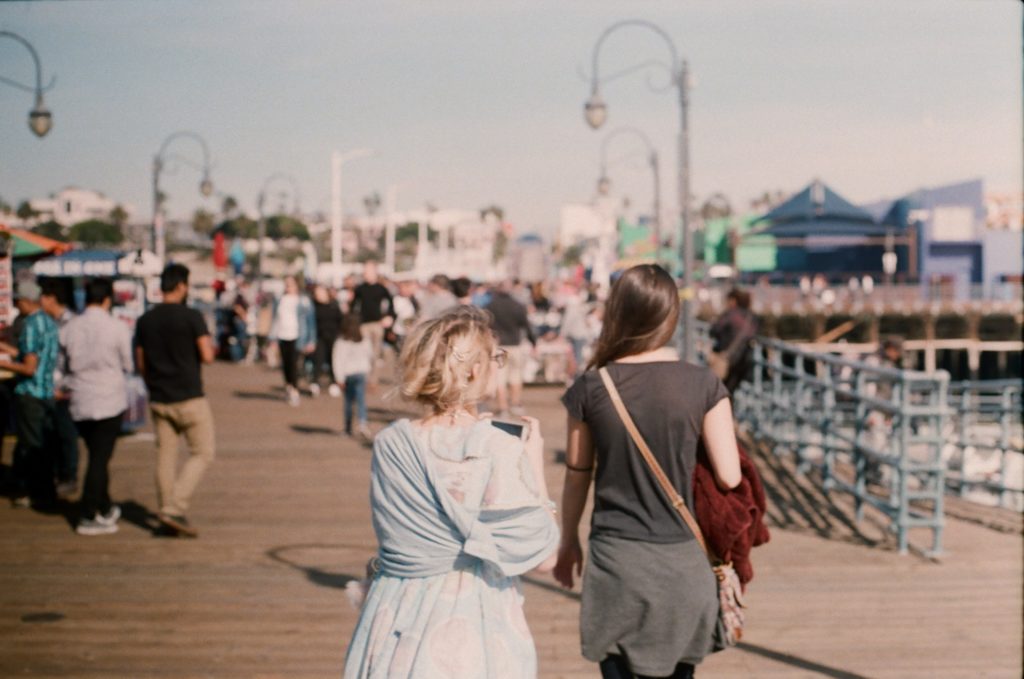 I livened up the experience a little more by taking out my film camera and using up an old roll of 35mm that I'd started almost half a year earlier. That's why some of these photos are digital and some are film. You can see all of the film photographs in the "Pacific Exposure" album on my Photo Journal. Here's one of Alex that I love: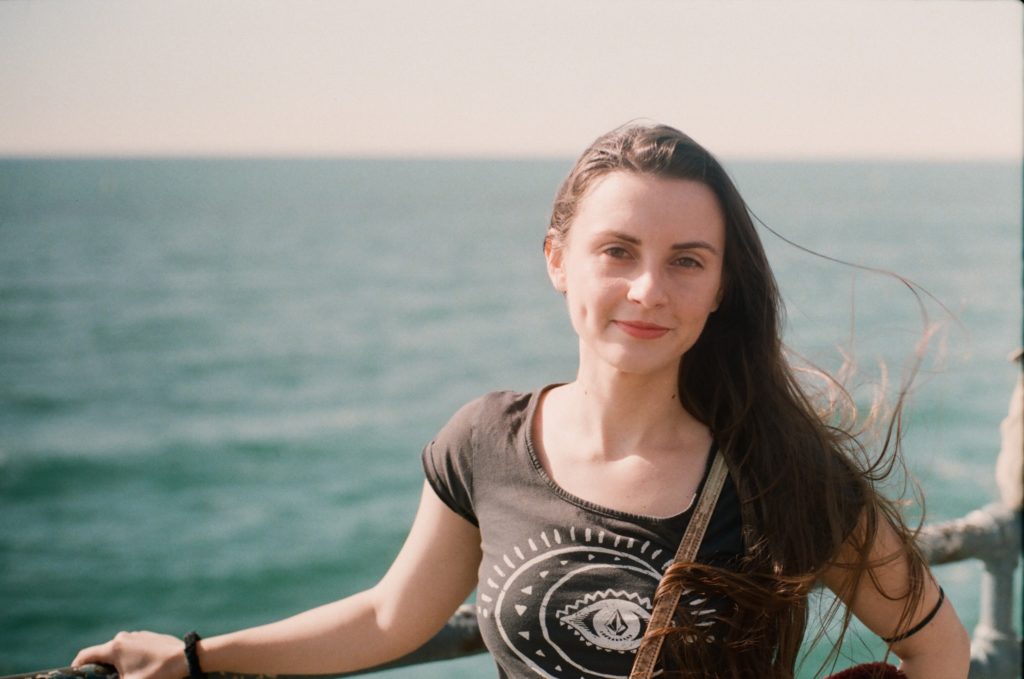 Alex decided to make things more interesting for us, too. Alex loves roller coasters. Lauren and I emphatically do not. There's a roller coaster on the Pier. You can see where this is going.
Alex convinced us to get on the roller coaster.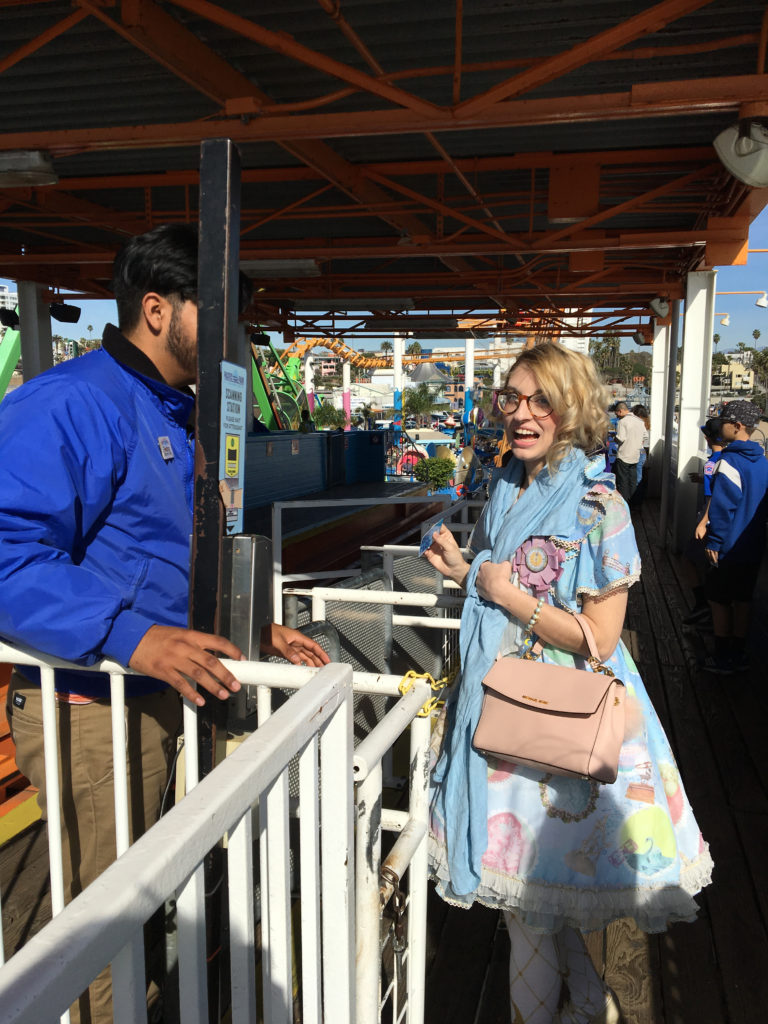 We went on and did the ride. It did not change my opinion about roller coasters. They're just not for me. Alex, however, enjoyed it thoroughly, especially because she got to watch us freak out.
The ride automatically took a couple photos that we could buy, and this was the best one. I think our facial expressions tell the story all on their own.
After that terrible experience, we took a much calmer stroll through the nearby Tongva Park, which is one of the nicest parks that LA has to offer. I've played chess with Alex there in the past and we got a nice photo together this time.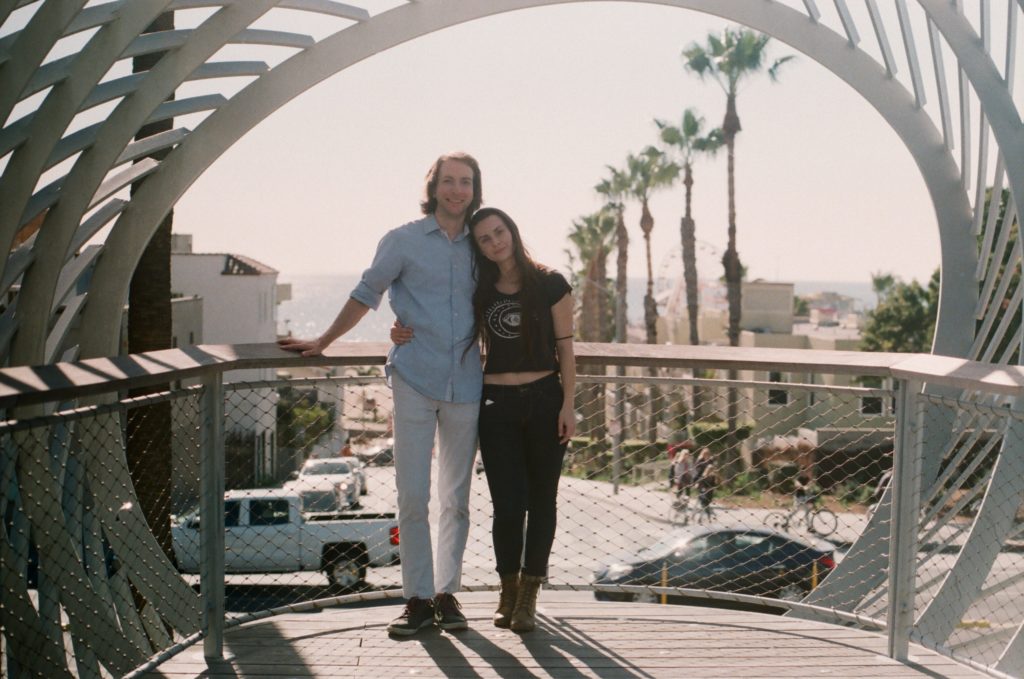 Then we dropped Lauren off at a manicure appointment she'd been looking forward to, and went to a neat furniture shop. We made a stop at Balconi Coffee Company, a coffee shop that holds a special place in my heart because it was the first coffee shop I went to in Los Angeles when I was first visiting.
Lauren rejoined us and at some point here, Alex drove on a sidewalk while trying to find a parking space. Whoops. We went to a big Japanese marketplace and got a lot of cheap-but-useful knickknacks.
We stopped at home to rest and change, and then went out for the night. Our first stop was an Asian grocery store in Koreatown. I loved the aesthetic in there and got a bunch of great photos of Lauren since she'd dressed up for the bar we were about to go to.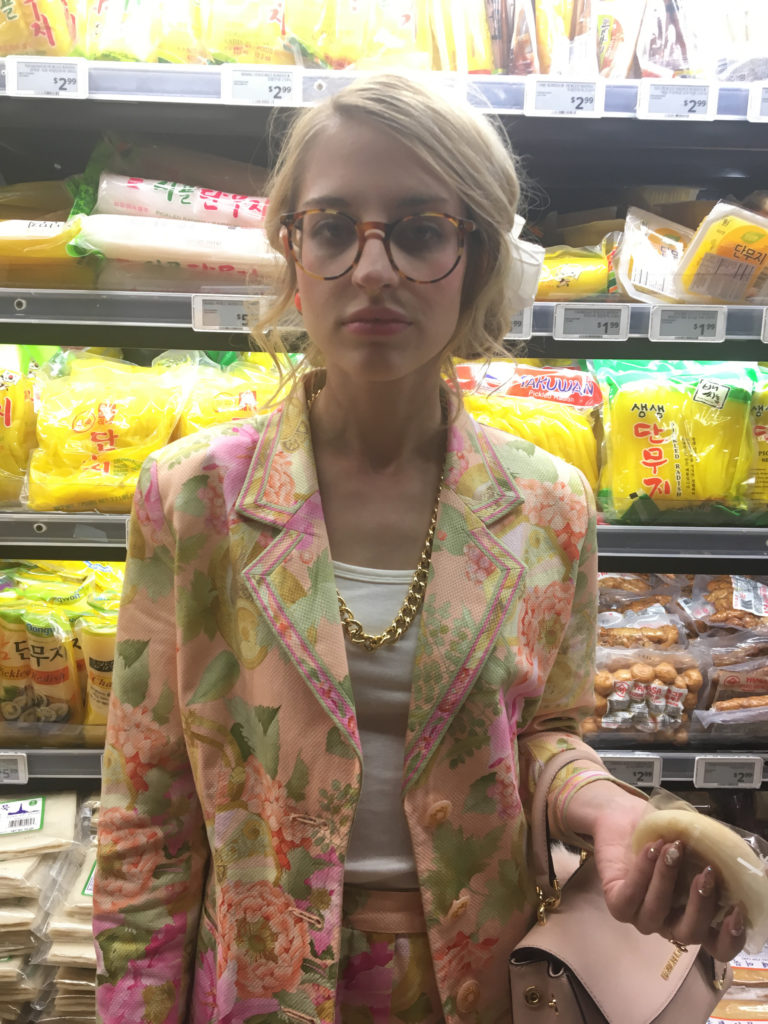 Alex was getting tired, so she went back home while Lauren and I continued on to the bar: Break Room 86. Break Room 86 is a pretty crazy place. It's got long lines and only lets in small batches of people at a time (which is annoying), and the actual bar is down a maintenance hallway, behind a secret door built into a vending machine on the wall.
It's all 80's themed. There are walls made out of cassette tapes, drink menus on VHS cases, boomboxes everywhere, old TVs playing grainy clips of Max Headroom, and so much more. Although Lauren and I were dressed up in period attire (her more than me, as usual), most of the other patrons were not, which was a shame. We sat and drank our 80s themed cocktails and pointed out to each other all the people wearing the exact same basic trends of clothing.
There was an 80s cover band in the main room and plenty of karaoke in the side rooms. We eventually got tired of the thick crowd and decided to go elsewhere.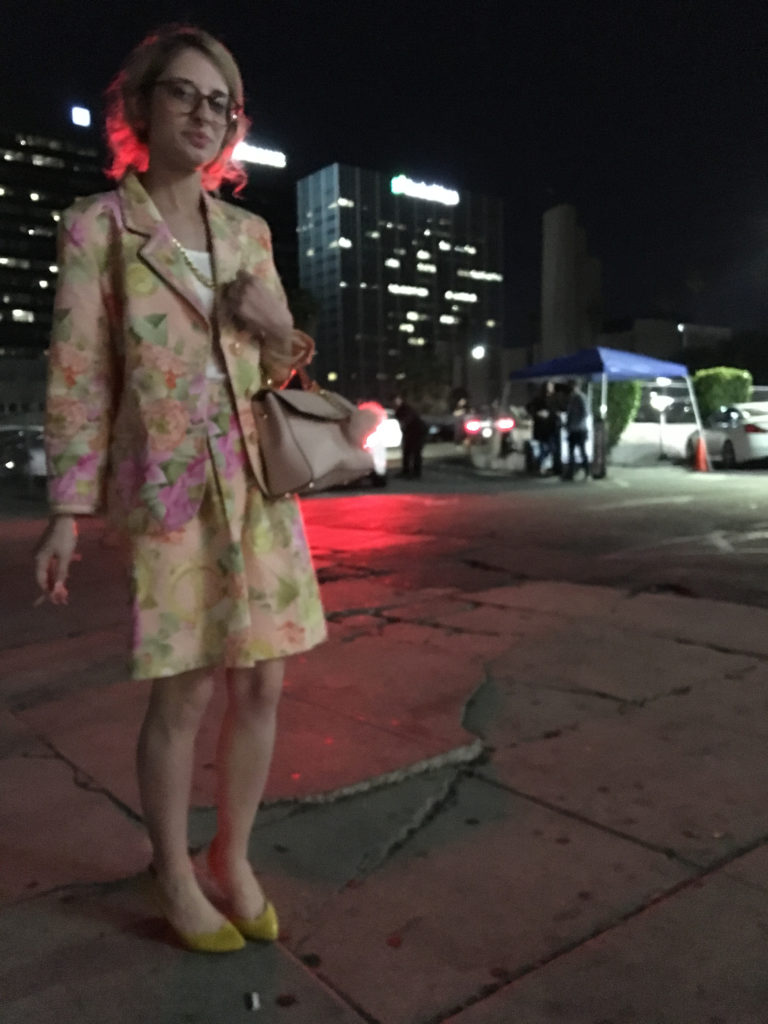 But, after a few other places were booked or full, we decided to just call it a night instead.
Day Four
The last full day of Lauren's visit. We went to Little Tokyo and met Marina at Kinokuniya, an incredible Japanese bookstore. While the last few days were all things I'd been to before, today was as new to me as it was to Lauren. Next, Marina joined us for a stroll around Little Tokyo and some Japanese food. Marina and Lauren both work in conservation so they had some stories to share.
Marina left, and Lauren and I explored Little Tokyo some more.
Lots to see and do here, and we stopped in a few great gift stores. Lauren got a few things to take back home with her.
Next we found this little music/movie store and Lauren got excited for new SE/EA Beats material. It didn't have much, but the owner pointed us towards a place across the street with a second floor that might have more of what she was seeking. We went back and up to this second floor and Lauren practically exploded with joy. There was so much here that I think we spent hours digging through stuff (well, okay, mostly just her digging through stuff) and spent all the cash we had.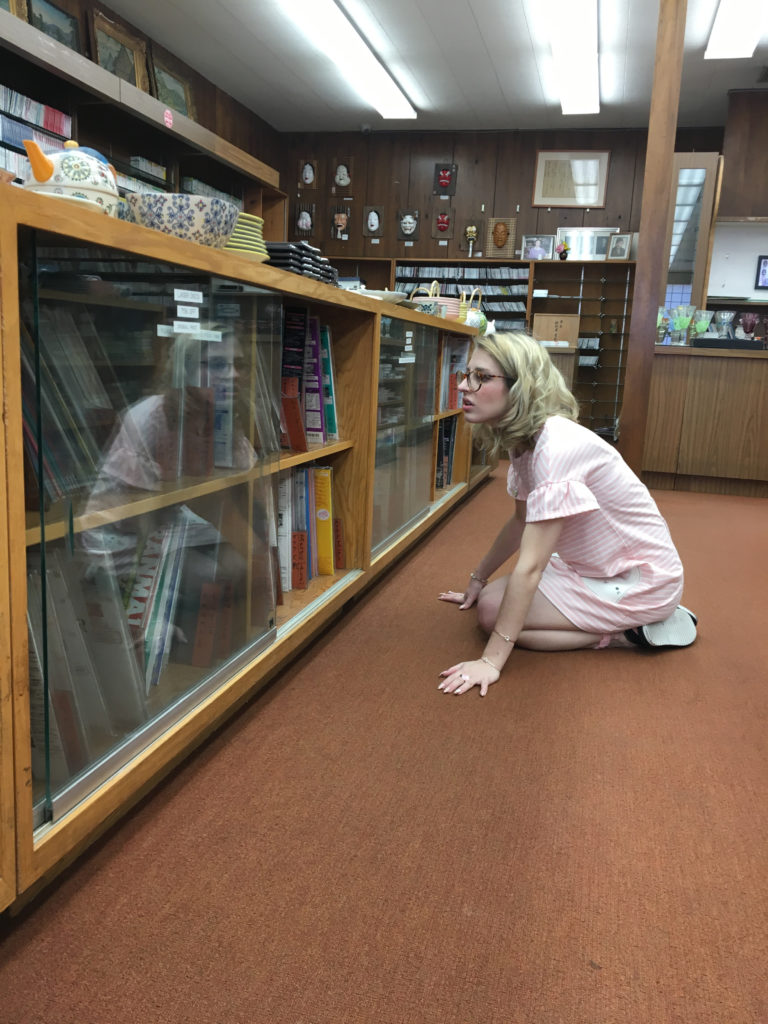 We had bags and bags by the time we were done with the whole day of shopping. It was a great time.
Afterwards, we went back home and chilled the rest of the day. I made some goulash and we played video games for a while. The last few days had definitely worn us out.
Day Five
Lauren's last day was pretty casual. We walked to the nearby LACMA – Los Angeles County Museum of Art – and saw the Urban Light exhibit.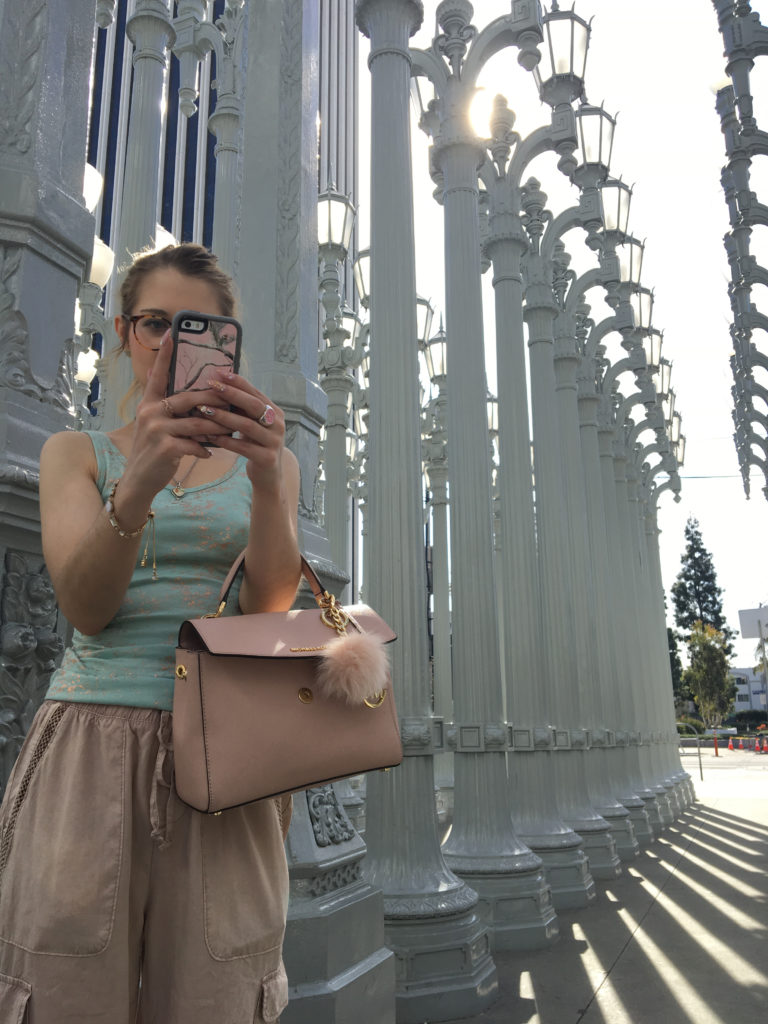 Then we did the La Brea Tar Pits. I've been the the Tar Pits a hundred times and they always amaze me, it's one of my favorite things to do in LA. I think I take everyone here and recommend it to anyone who asks. Seeing the fossils, the digs, the lake of tar, all right here just a few blocks from my house. It's surreal.
There's also a really big rock that you can walk under and take photos with, so of course: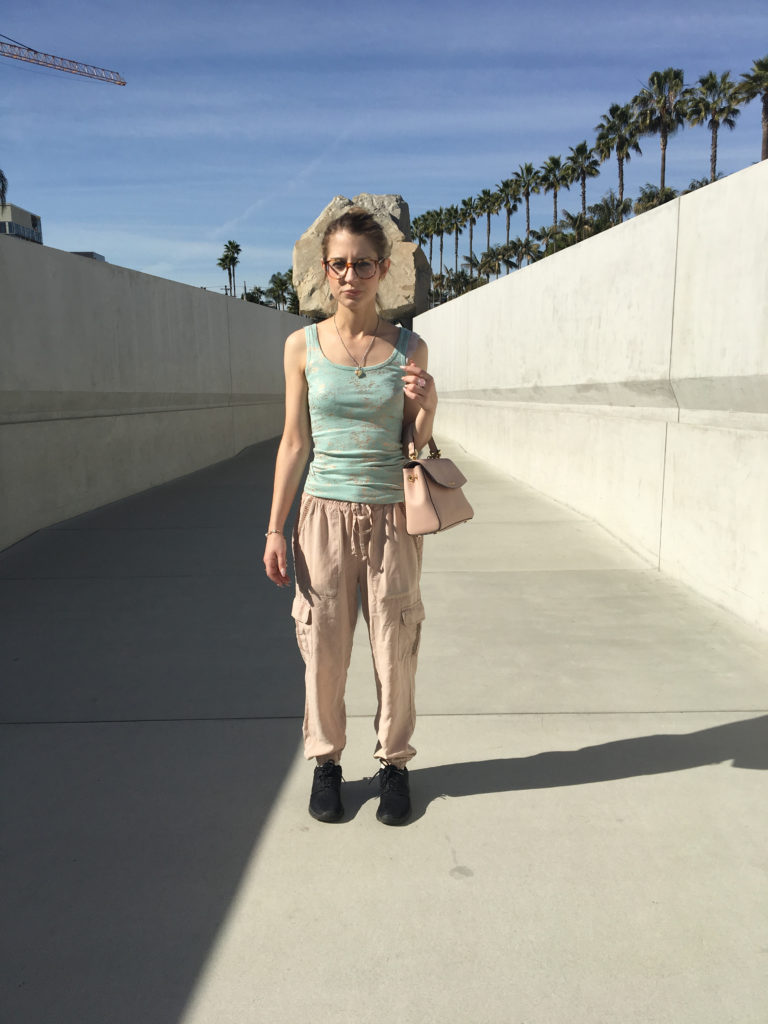 We walked around and got iced lattes and scoped out all the cool Beverly Hills houses. We made our way to the delightful La Cienega Park where we sat and talked for a few more hours. When Lauren finally checked her phone, she discovered that another friend she knows here had seen her Instagram story from the Urban Light exhibit, and that friend happened to work right across the street! So we ran back there and went up to her building, and they caught up for a bit while I got this sweet view of Urban Light that I'd never seen before: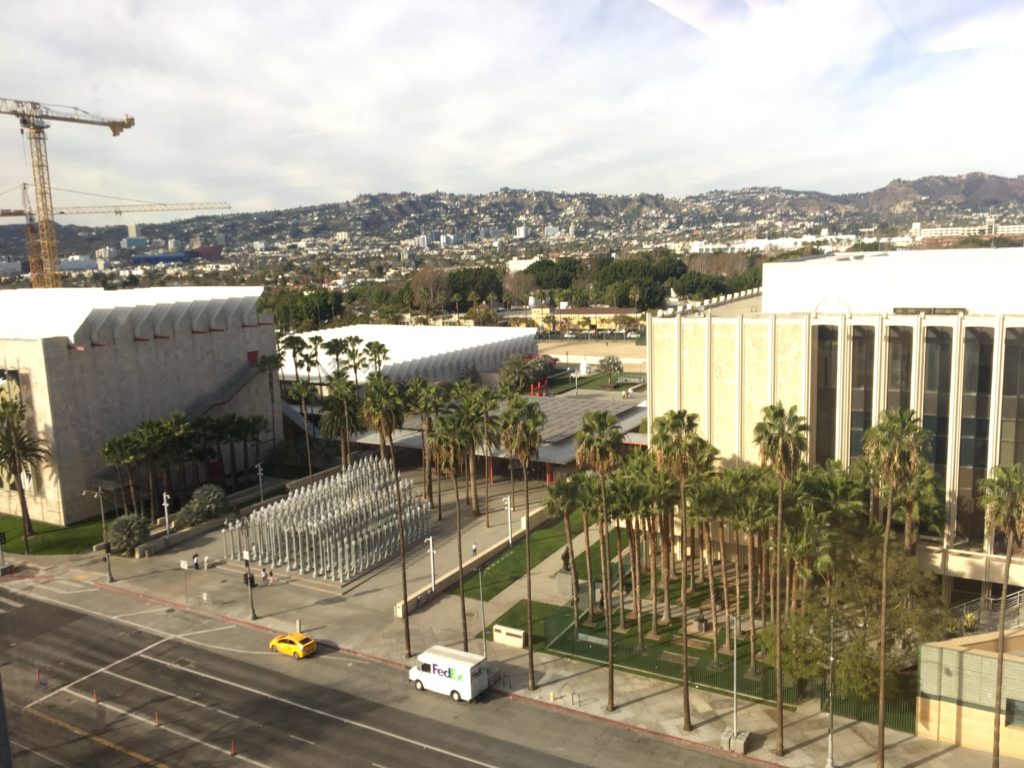 After that, we booked it back to my place and Lyfted to LAX, just in time for Lauren's flight. It was a great week.
But I only had a couple days to rest before Alex and I were off to New York City!