Uncorked LA: Union Station Wine Event (The Good & The Bad…)
As you may or may not know, I'm a major wine-lover.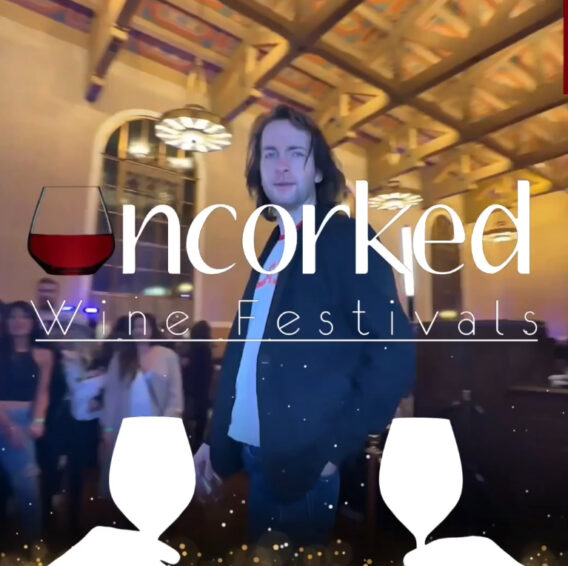 I take notes on nearly every new wine I drink and keep them all in a massive spreadsheet, along with the vintage, location, and everything else.
So when I heard about this event called "Uncorked: Union Station" happening at, well, Union Station in downtown Los Angeles, I knew I had to go. (I live in DTLA – just a ten minute rideshare away!) This was Saturday, January 28th, 2023.
I used to pass through Union Station a lot, and I love the space. They actually have restaurants, stores, and both indoor and outdoor event spaces. It's a really cool building, there are films shot there all the time too.
And they gave us these neat little custom glasses!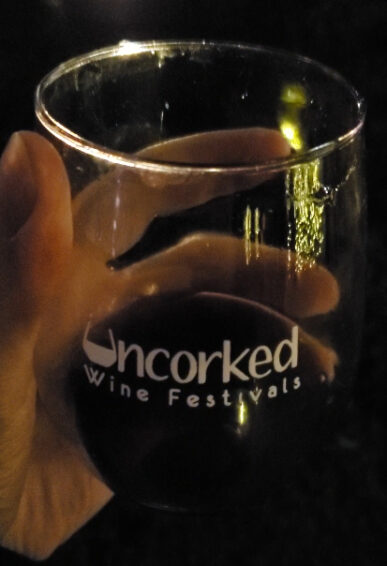 Although it was mostly fun, there were some very weird and lame parts of this event, too.
Uncorked: The Fun Parts
After getting in, I was amazed at how much of the station had been taken over by wine booths. There were 3 or 4 distinct areas, including a main hall, the whole outdoor section, and one or two other small areas inside too.
The main hall was full and spectacular!
There were dozens of tables set up with a different vineyard or wine company at each one, and each had anywhere from 2-6 bottles they'd happily pour you samples of.
The tables looked like this, and were this full at least: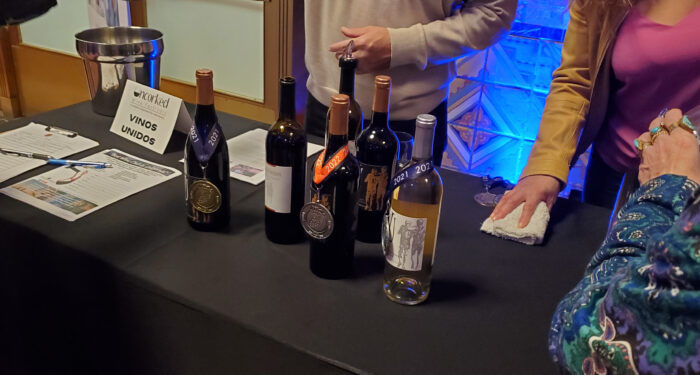 Rest assured that they would not run out, they all had plenty more bottles around.
The coolest part, though, was that Union Station had turned all of the old train ticketing booths into wine sample stations as well. LOOK AT HOW COOL THIS IS: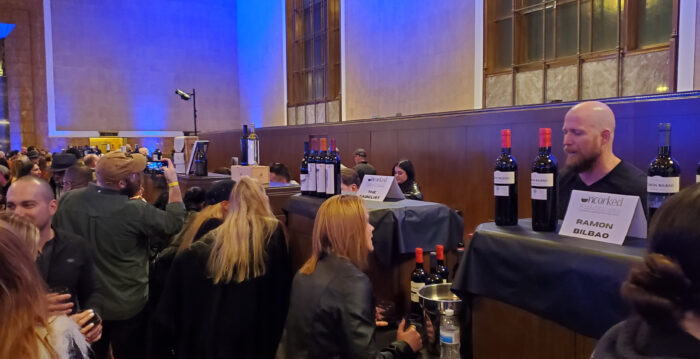 Seriously, I loved this concept so much, and it worked so well too. I hope they come back here again just for this!
They had an indoor band play some great jazz music too.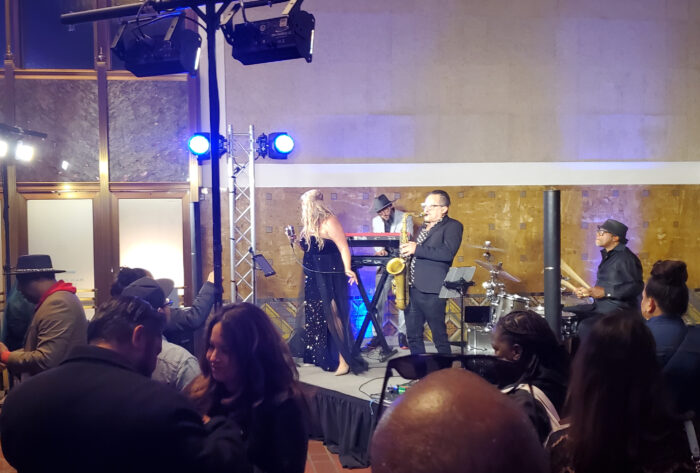 I sampled at least one option (and often 2-4) from every single table here! The lines were usually super short, only waiting at most a couple minutes. There were one or two with longer lines for whatever reason, but even they weren't bad.
I also went outside. Check out this quick video of the premises:
It's a great space, lots of room, a good DJ, and even more wine. Some great champagne brands out here, some green wine, a lot of independent places – the selection was really spectacular!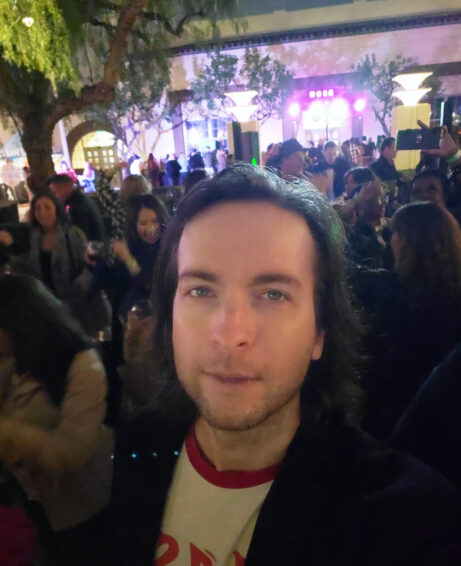 I didn't really care to dance with a bunch of strangers though, so I went back inside to finish off some other booths in other areas.
There was also this big thing you could step in that had a camera spinning around you, which would then take a slow-motion 360 video of you.
I tried it, but oh man. I didn't realize how long it would record – I thought it had finished when it was still halfway through! Tired and a little drunk, my actions weren't as cool as they probably would've been had they had this thing set up at the beginning of the event.
Oh well – still a fun souvenir! I'll know better for next time.
Overall it was a very fun event and I'm really glad I went – so glad that I went to the next one half a year later at the Science Center.
However, there were a couple parts of this event that really sucked.
Uncorked: The Crappy Parts
Just Getting Inside In The First Place
Getting into this event was awful.
I mean, just physically being let in. The security guards had no idea what was going on. There was nobody there to give directions. There was the event, but you needed a wristband to get in.
Where were the wristbands? GREAT QUESTION!
I spent the first 15-20 minutes of the event time wandering around Union Station looking for where this event had set up its entry gate and glass handouts. I was not alone. There were a dozen or so people following me, and another couple groups we crossed paths with also trying to figure out how on earth to get in.
For whatever reason, they had set up their welcome tables waaaaaay off to the side, not near any main entrance to Union Station or even remotely close to any of the actual wine booths.
Even then, scanning tickets, getting wristbands, and getting your sample glass were all things you had to do at DIFFERENT TABLES.
What a stupid process! And most of the event staff and security had no idea how it was set up either, so nobody at all could help or point us in the right direction.
When I was finally in line with my glass and wristband, waiting to get into the first area, there was a family behind me who didn't have their stuff yet. I noticed this and pointed out to them that this was the fourth entry line, and that they'd have to go to three other entry lines first, even though a half hour of the event had already passed. They were grateful but completely exasperated as well.
To me this just points to bad event management.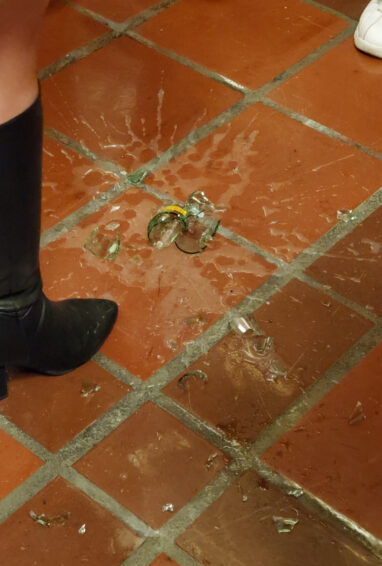 The Bathrooms
Obviously, at a wine drinking event, bathrooms are important.
To their credit, Uncorked had a bathroom trailer out front, and Union Station doesn't have a bathroom shortage.
However, midway through the event, they started letting all the women into the men's bathrooms.
By letting I actually mean that a ton of drunk women barged in and then the line just never stopped, until the event staff gave up and decided not to even bother to control them.
It ended up with a ton of rude, drunk, and rowdy women all over the men's urinals, taking up stalls, you name it. It got weird in there and was super uncomfortable.
Of course, men were still not allowed in the women's restrooms.
Meanwhile, they were pushing men OUT of line for the men's restrooms so more women could go in first.
It was honestly super fucking weird and it left me with a really bad impression. I don't know what they were thinking here.
Conclusion
Eventually, the crowd started to clear out.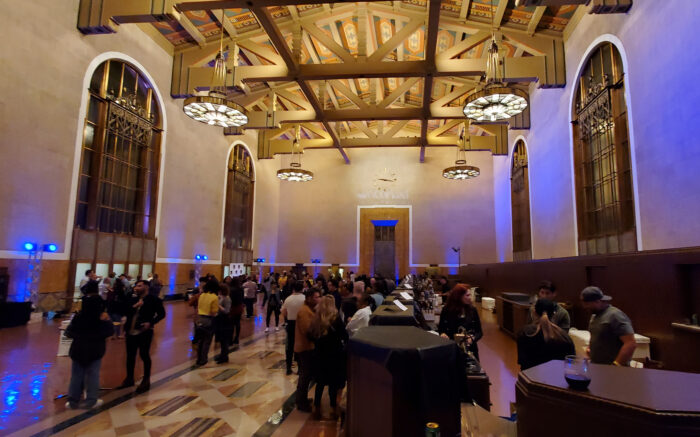 Overall, like I said, still a very fun event. I had a great time, once I was finally in, as long as I wasn't using the bathroom – which was the majority of the time, so hey! It was good enough.
(Unfortunately they were equally bad with entrance coordination at the next event at the Science Center, but that's a post for another day.)
Despite the bad, I'm still looking forward to the next Uncorked, and I'll gladly go to all of them in the future, VIP ticket and all.