The Forbidden Pizza of Seattle (Part 1)
My trip to Seattle, Washington happened by surprise. I had a normal day of work on Arbor Day (April 27th, my second favorite holiday after Earth Day), and then at the end of the day I get an email. "Hey, we want you to lead the SEO on this new account. Big coffee brand up in Seattle. Book your flight for Monday." It was Friday.
My bags are always ready to go, so I booked my ticket right away.
Welcome to Seattle
2018-04-30: I flew in the morning and arrived in Seattle for the very first time. In fact, this is my first time in the Pacific Northwest as an adult, although my parents did drive me through the area once in my early teens. But I was too absorbed in books back then to look out the car windows.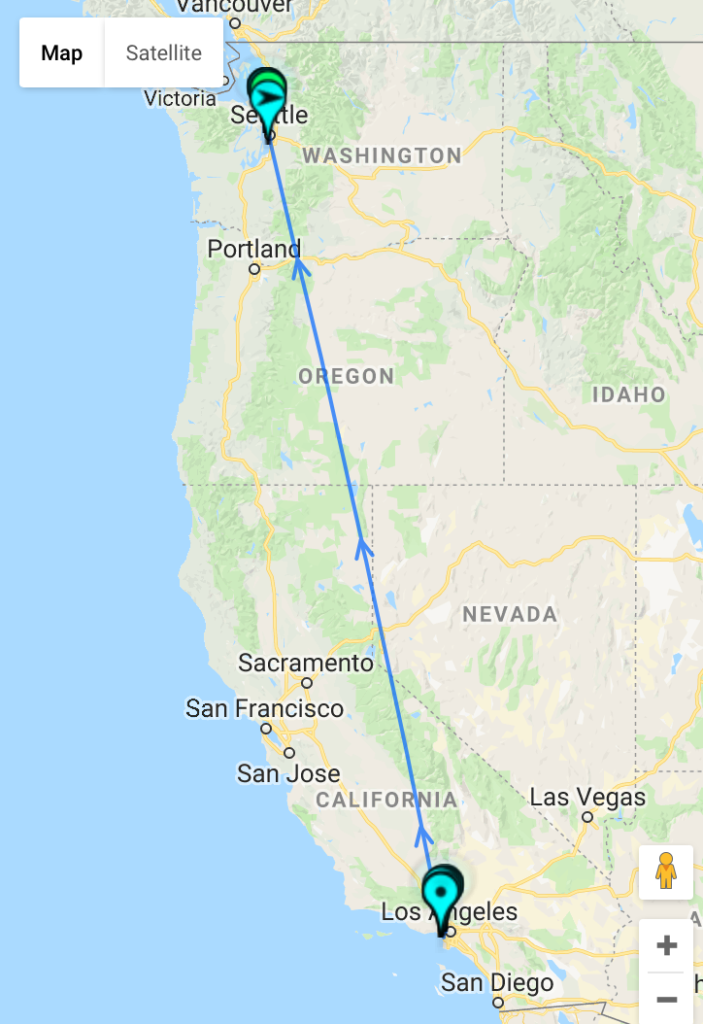 I lyfted straight to my office. Our Seattle office is really nice, in the great Queen Anne neighborhood, cool building, the whole works. I'll show you the office later because I took more photos of it another day. Today I was too busy meeting the other members of the team – including a couple familiar faces now that I was getting my own face out there more often.
Work was work: meetings, touchbases, coordination, writing and planning. My flight brought me in a little late, so I stayed late to finish up. By the end, I was eager to take my suitcase and get to my hotel.
The MarQueen Hotel
The MarQueen Hotel is one of the nicest hotels I have ever stayed at. It's old-fashioned, quaint, and romantic. Check out the grand staircase, the only way up to the rooms: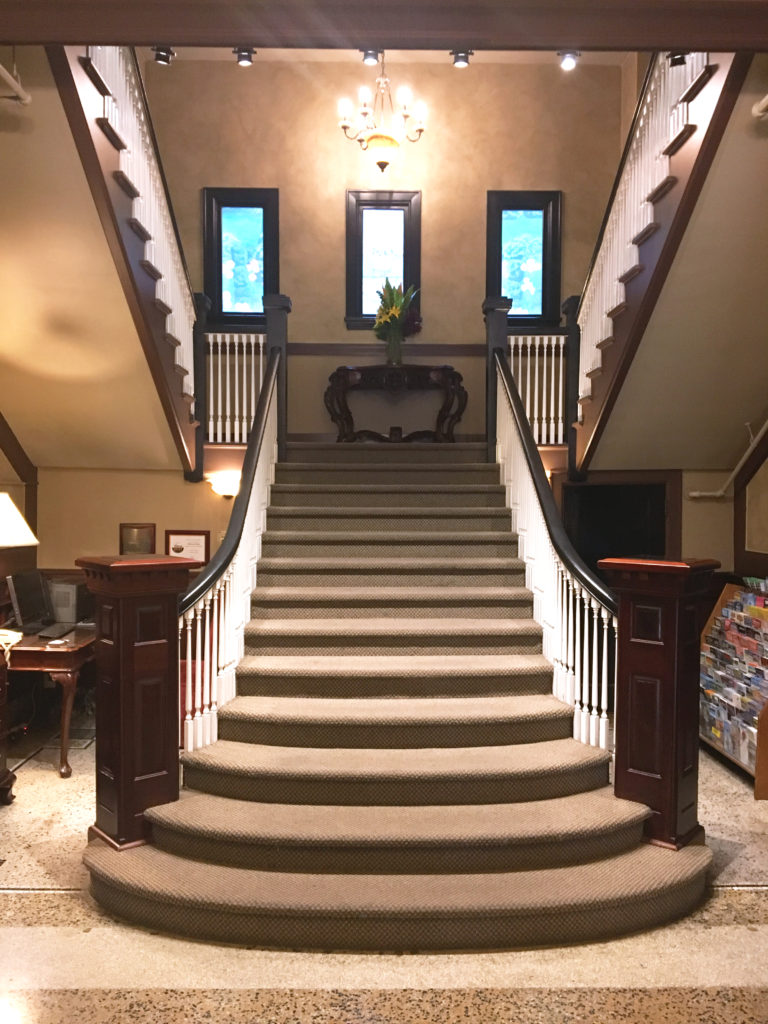 Then the hallway to the rooms: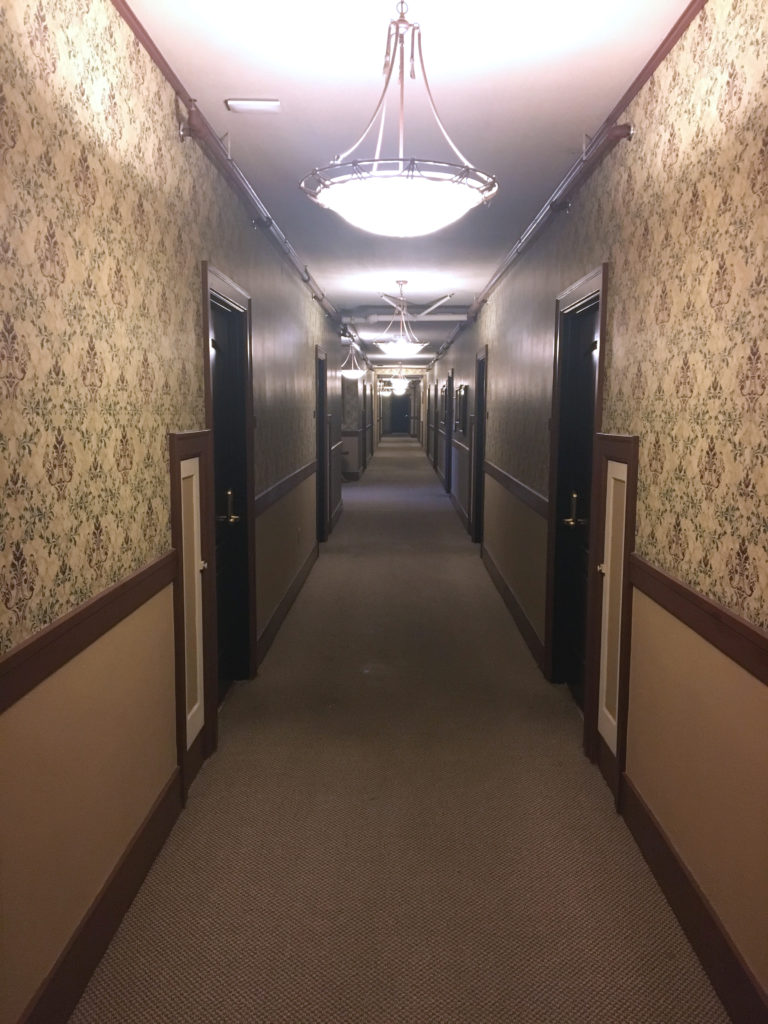 I walk in my room and find out that it has two beds for me to choose from!
And a separate sitting area back there: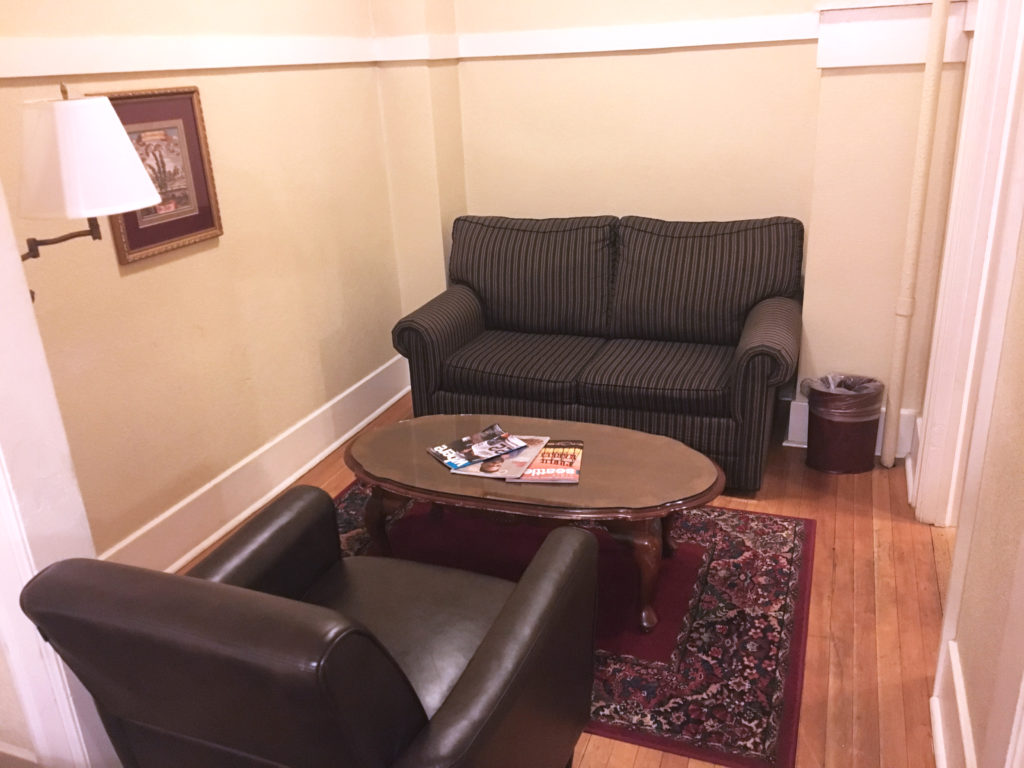 And off to the side, beside the regal bathroom and functional closet, there's this whole kitchen area: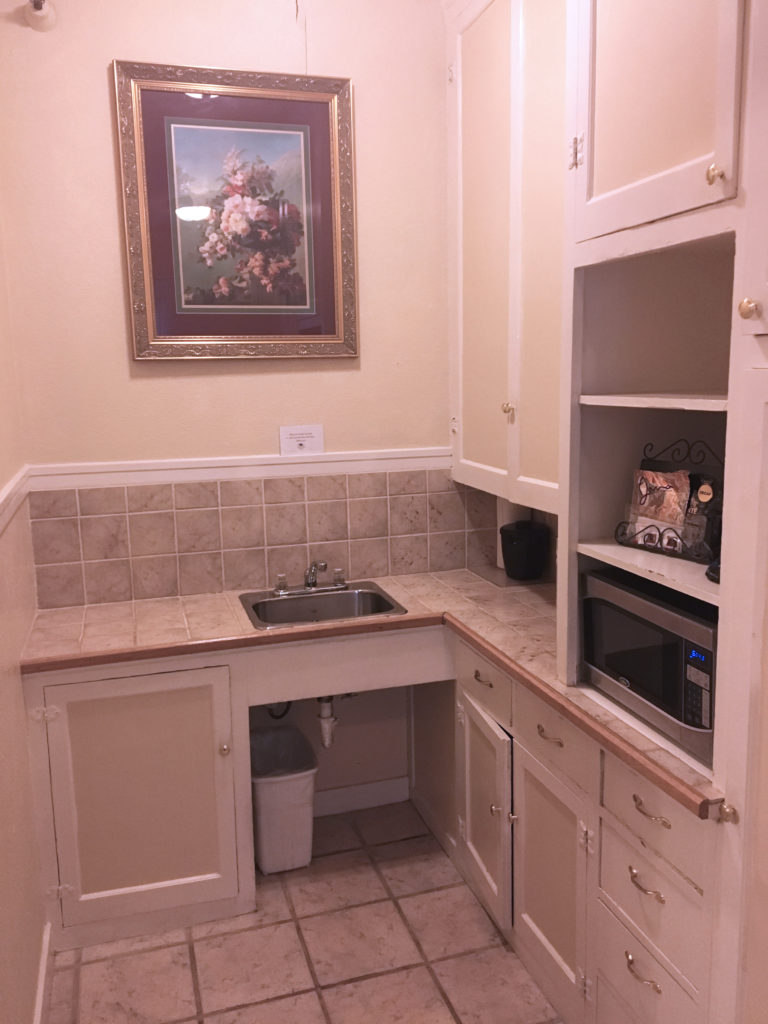 And behind that, a full fridge and separate restaurant booth dining area!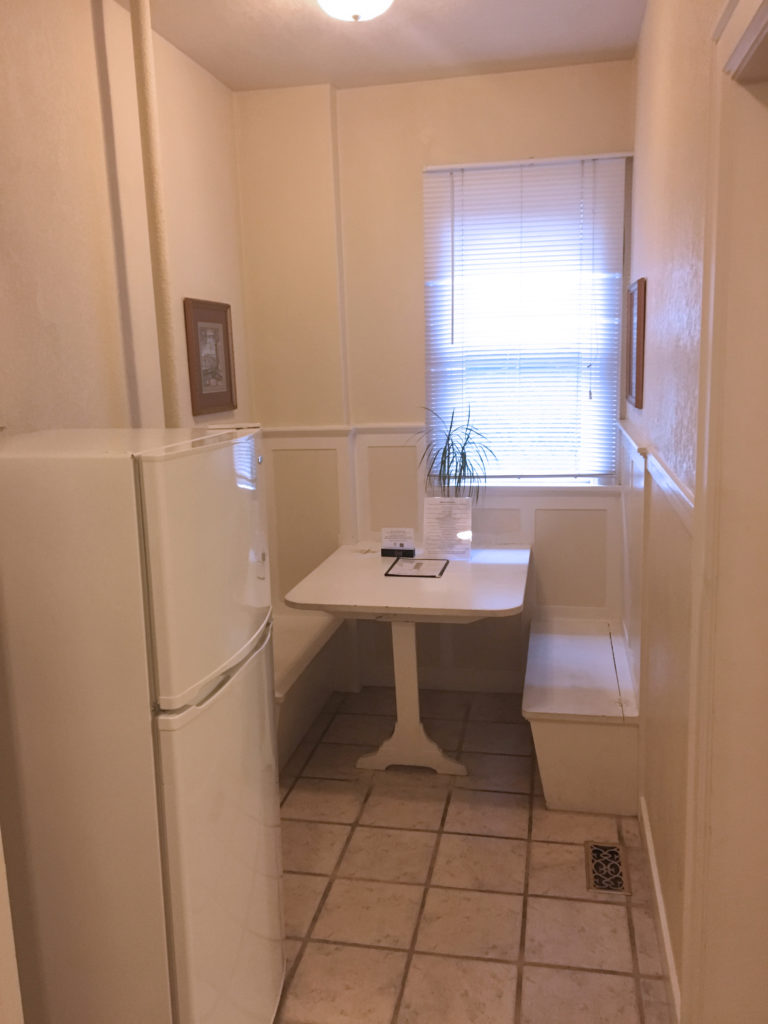 This is one of the biggest, nicest hotels I've ever stayed in. They also have an old-fashioned bar called Tin Lizzie attached where I definitely spent some money over the following days.
I sat and relaxed for a moment, but I didn't want to wait too long. I had the whole evening to myself and I wanted to get out and explore Seattle before it got dark.
Strolling in Seattle
I had no goals in mind, so I just walked towards the Space Needle. That seems like the thing to do, right? And there was a big park between me and it, too.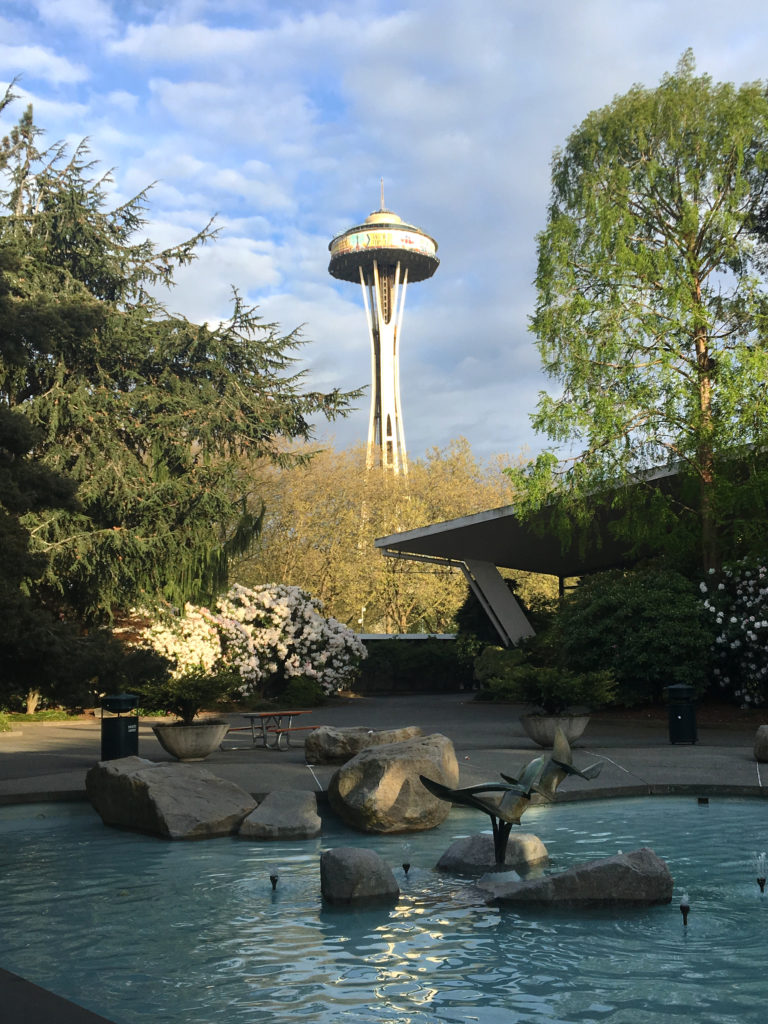 The Space Needle sure is beautiful! What an inspirational sight. I loved it.
I also found myself near this big thing: the International Fountain.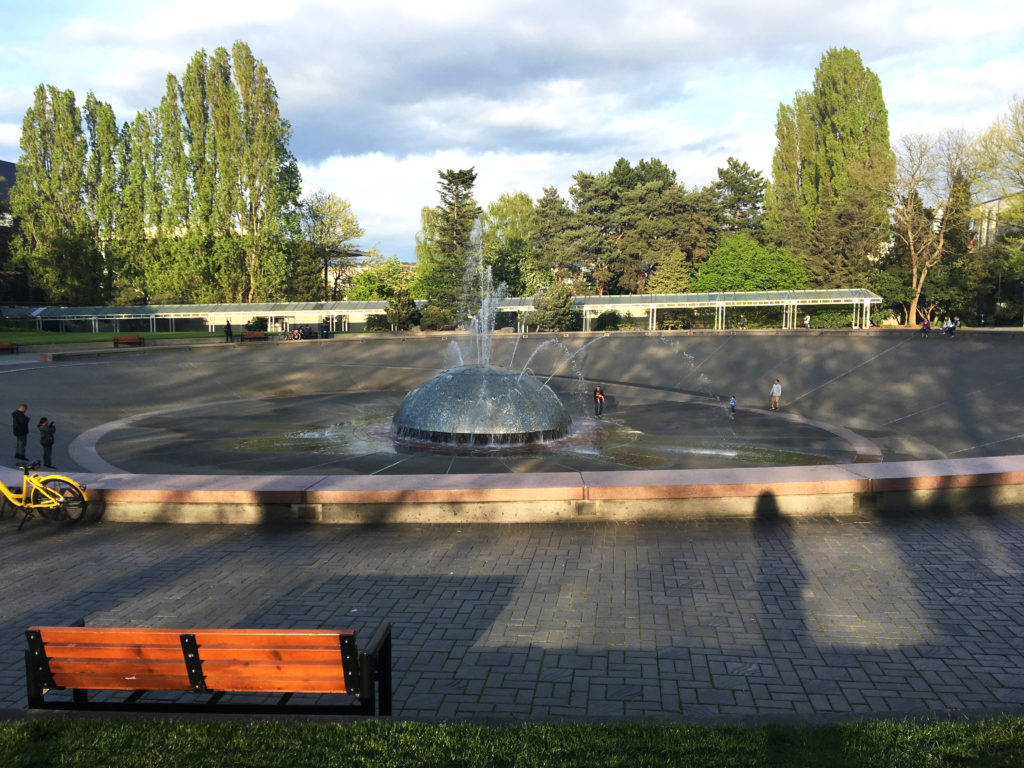 The International Fountain is built on the site of an old playground that had been sitting here since 1910. During the early 1960s, for the Seattle World's Fair, they wanted to change it into a "lagoon with gondolas and crossed by a bridge," but then I guess decided that a fountain would be easier.
The fountain pictured above is actually something new, it was remade in 1995. In my opinion, the original was cooler. I looked it up and found some photos, from very cool articles on When The World Was Fair and Exposale respectively.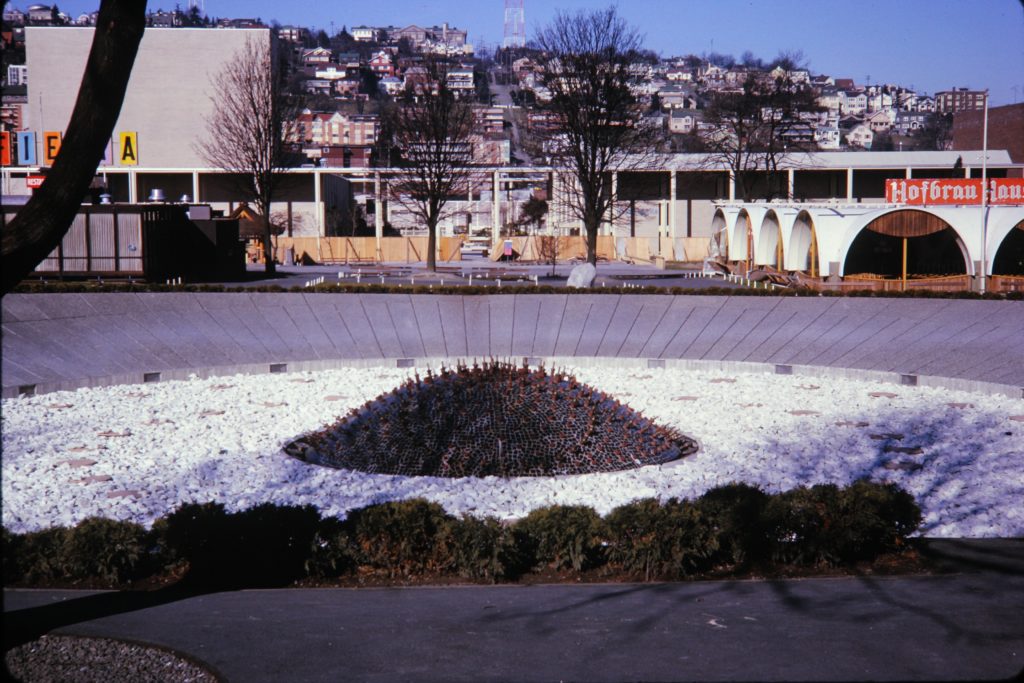 The old fountain, turned off. It was supposed to resemble a lunar landscape (this was before the moonwalk) with the fountain itself, jutting out edges and spigots, looking a little alien here.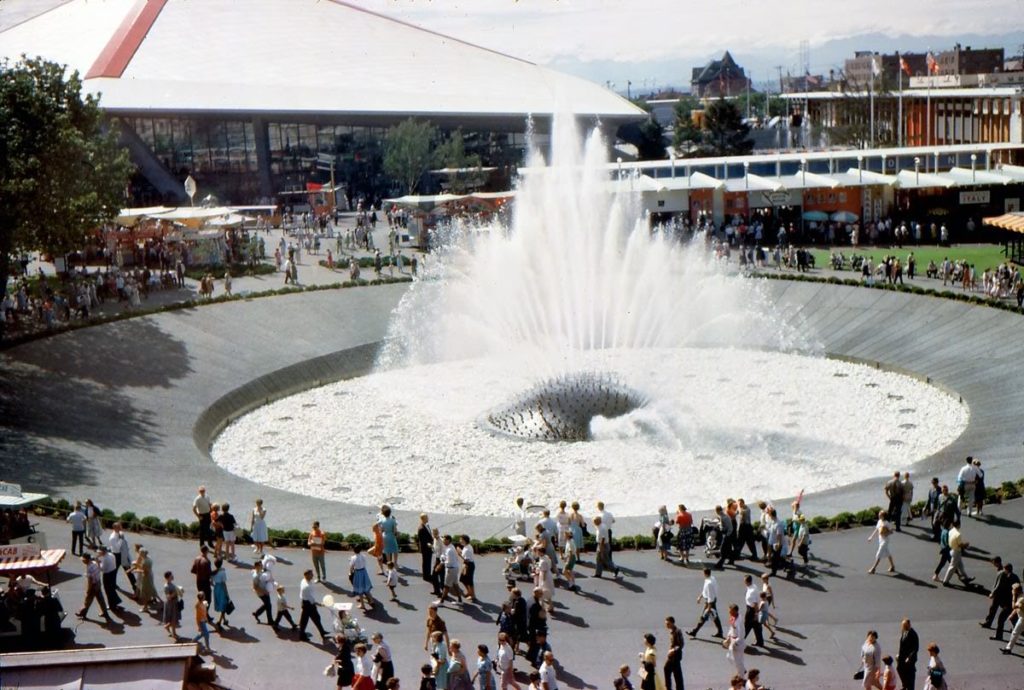 In the old days you weren't supposed to get close and play in it, which I appreciate. It was just about the majesty of it all. I personally love this old retro-futuristic design. The new design isn't bad or anything, it's just a lot less inspired. On the plus side, they say that the water in the new fountain is probably the cleanest water in Seattle, so that's not bad.
Anyway, I decided to not do the Space Needle on this trip because I was more interested in seeing the rest of the city. I'll save the tower for another time.
I walked to the coast, down the piers, over to the Olympic Sculpture Garden. Saw this weird sculpture called "Echo":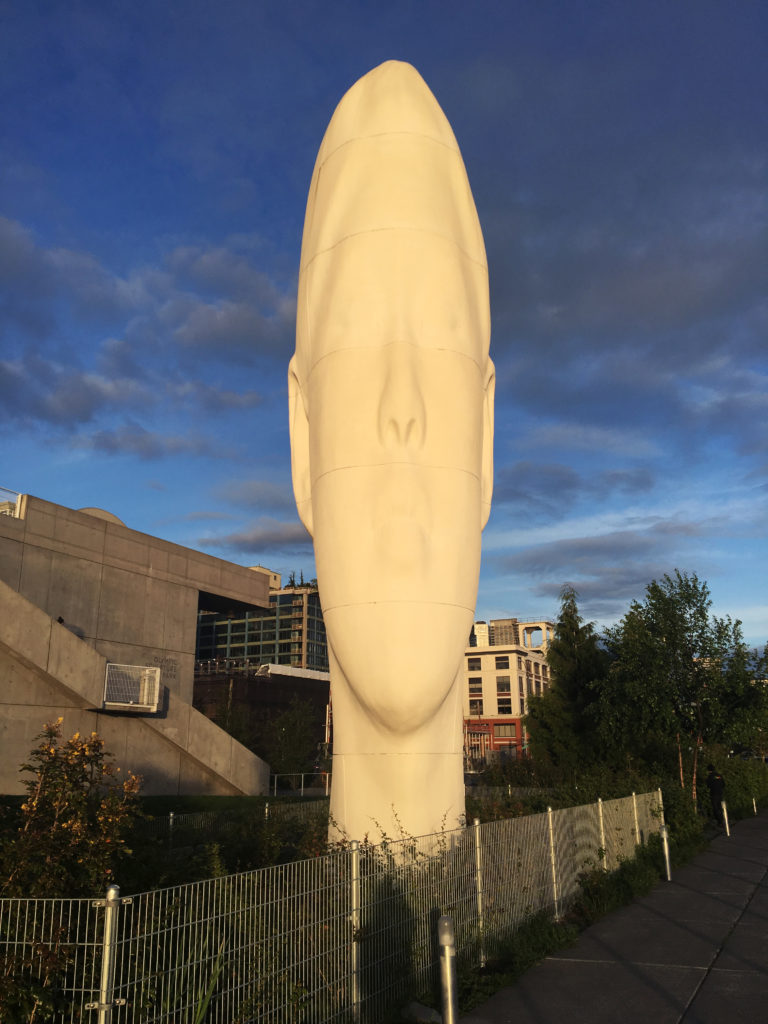 I was also really awestruck by how beautiful the city was. Great lighting as the sun was going down, neat buildings, gorgeous sky… wow. Seattle is really impressing me!
I walked along the piers until I got to Wall Street, then I veered more towards town. I stopped at the Public Market and explored there in and out. I guess the Public Market Center is like… some sort of landmark? I see photos like the ones I took below all over the place. But I really thought it was boring. Just a generic market. Maybe it had some nice bricks here and there but otherwise I don't get the appeal. But ok here are my "iconic photos" of the place.
There were a bunch of teenagers hanging around and it reminded me of a suburban mall but with worse parking options.
Underwhelmed, I decided to go into the city proper.
Seattle is undergoing a ton of construction and I was amazed by how modern and almost futuristic it already was. The downtown area was somewhat small but incredibly scenic and seemed like it would be a ton of fun. Weather-depending, Seattle could even be a place I'd consider living. I got some postcards from a gift store and explored, seeing all kinds of wonderful things.
And then I saw these: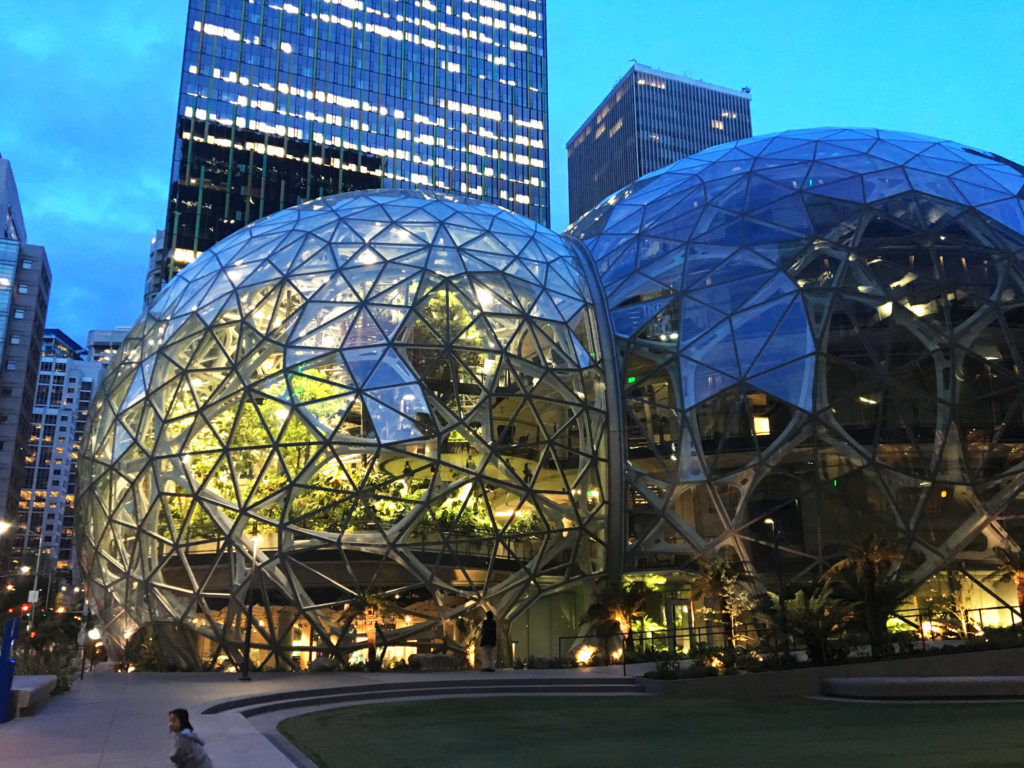 What the heck?? Right in the middle of regular buildings, sat these two big glass structures. I was completely flabbergasted.
Turns out these are the Amazon Spheres, which Jeff Bezos built for some reason, only available to Amazon employees or their guests on most days. There are a bunch of trees and plants and space in there. It looks like a whole different world inside.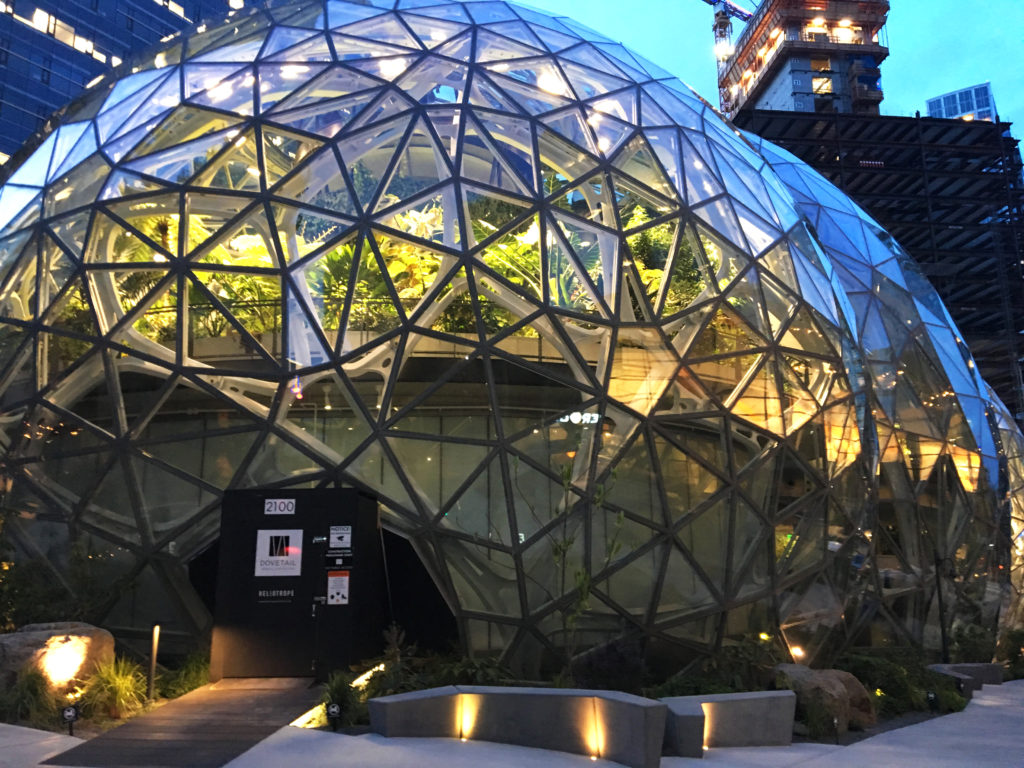 I later learned that they are more commonly known as "Jeff's Balls." So that's something.
I walked around for a while more and was totally falling in love. Getting late, I walked up to Denny Park because it looked cool on Google Maps, and I loved the lantern light there. Looking back at Seattle it looked like a cyberpunk scene (although a little less dystopian than New York City):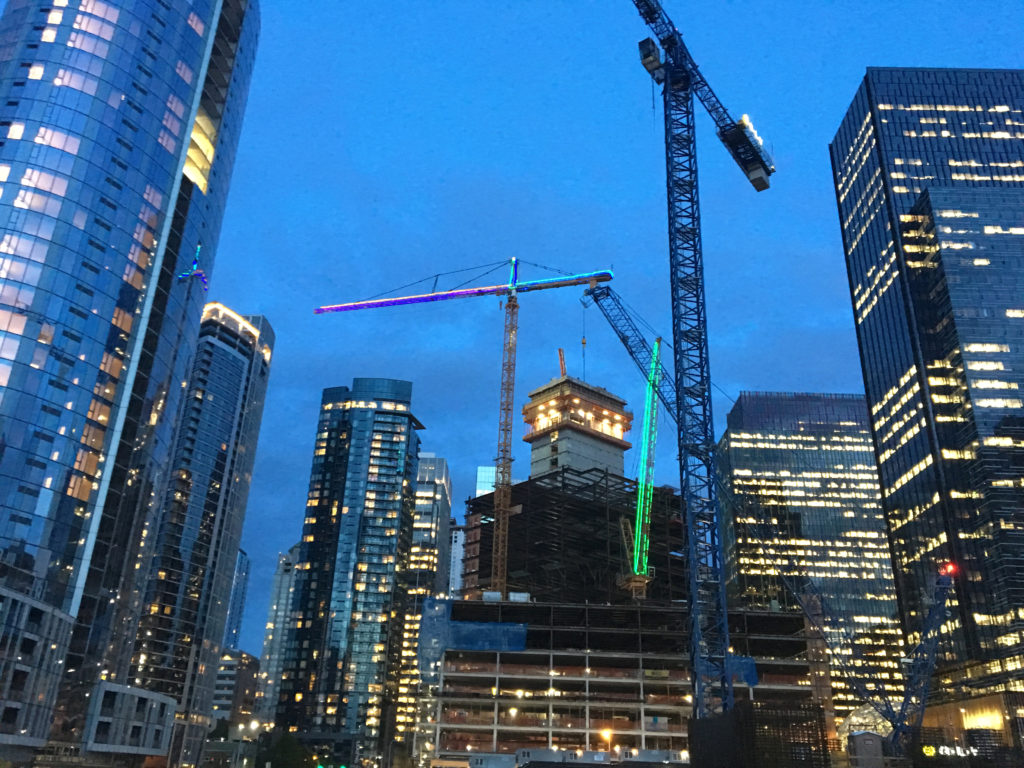 After all that walking, I was starved. Time to go out and find me a pizza! Sounds like it'll be a great finish to a great day!
The Seattle Pizza Debacle
That subheading would make a great band name, but it did not make a great night.
My feet were tired so I picked a pizza place close to my hotel – The Masonry. After finally getting there I was immediately disappointed. The tiny interior was packed full of people and the menu looked about as unappetizing as possible. It was all "artisanal" pizza, the portions looked small, and the prices looked high.
Damn.
Not to be dissuaded, I walked to the also-nearby Pagliacci Pizza, about a block south. I walked in and had the opposite impression here. The inside was dark and the serving area looked like a lunchroom cafeteria, and the pizza looked of similar quality (actually worse, because I enjoyed the pizza we had in school). It was super cheap and it showed.
These were the only pizza places nearby because I was so done walking for the day. So I just went back to my hotel room and thought I'd get delivery instead. Not as fun, but damnit, I'm hungry.
I called up Papa John's, placed my order, and then found out that there is no Papa John's that delivers to this part of Queen Anne. What? I'm right in the middle of Seattle, in a very popular area – heck, I'm six blocks from the Space Needle. How is this a delivery dead-zone?
Okay, fine. I call up Domino's instead. I'm not a huge Domino's guy but whatever, I'll take it.
The call started off with a thirty-second recorded commercial for Domino's. Hey, guess what, I'm already calling you, Domino's. I don't need to be sold on the idea of calling you, on my call to you. Your marketing has already succeeded. Hurry it up!
I finally get a guy with a very nasal, whiny voice.
"Hello, who am I speaking to?"
"Uh, this is Ethan. I'm calling for a delivery."
"Hello, Ethan. Where can I deliver the pizza to, Ethan?"
I give him my address.
"Ohhhh, I'm so sorry Ethan, but we don't deliver to that address, Ethan, another store covers that area Ethan."
Of course. "Okay, can I get their number?"
"Do you want me to find it for you Ethan?"
"If you could, yes."
…
…
…
…
…
…
"Sorry Ethan I'm just searching for it, it's taking me a while Ethan, I'm so sorry Ethan."
"That's just fine."
…
…
…
…
…
…
…
"Ethan I'm so sorry it looks like I just can't find – oh here it is Ethan are you ready for this number?"
"Yes."
After this bizarre phone conversation I hang up, dial the new number, and get to wait again while the same recorded commercial plays.
Luckily, fifth time's the charm, this Domino's was normal and actually delivered and in no time I was finally eating pizza.
My path today: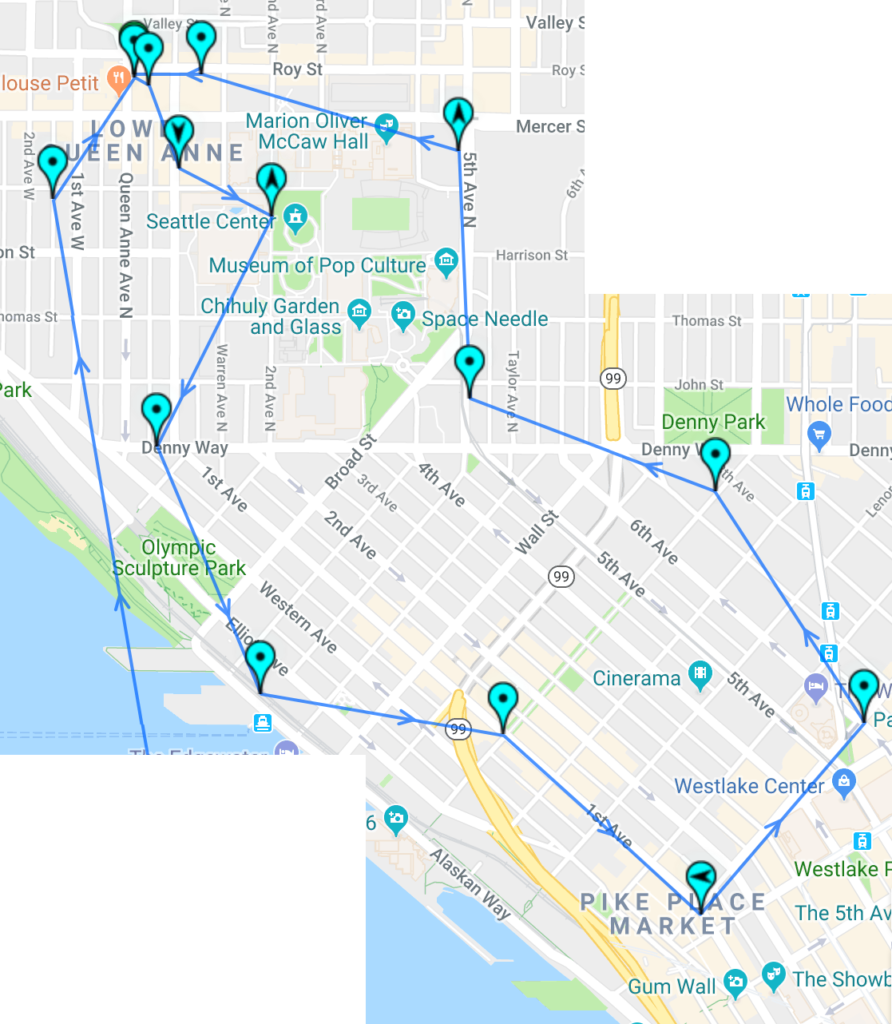 Not bad!
Tomorrow: work.