Let's Grab Some Dick's (Seattle Part 3)
Today was when I planned on seeing some of my best Seattle friends while I was in town. But before I could do that, I had to work some more.
Like yesterday, work began with a trip to a Starbucks. The day was 2018-05-02.
Starbucks Reserve Roastery Seattle
This time it was the Seattle Starbucks Reserve Roastery. I had thought yesterday's bar was cool, but the roastery took it to a whole new level.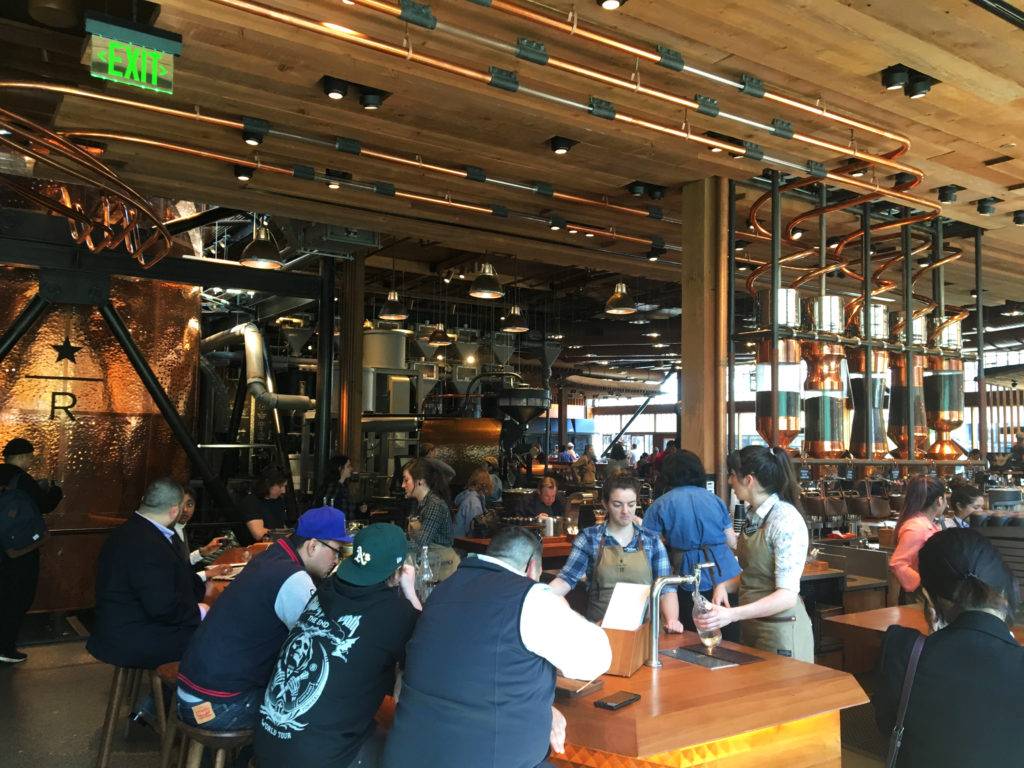 This place was incredible. You got to see the beans being processed, the tanks, the pipes, the machinery, the whole works. The baristas were smart and on top of their game. There was another bakery, a restaurant area, multiple dining areas… the workers running the actual machines were also very friendly and would explain what they were doing and talk to anyone who asked. This was a fascinating place to come to for a coffee lover like me.
From the hallway to the bathrooms, you could even see through tinted windows in on where all the barrels were kept in the back areas. I felt like there were almost no parts of this location that were hidden. Everything was real.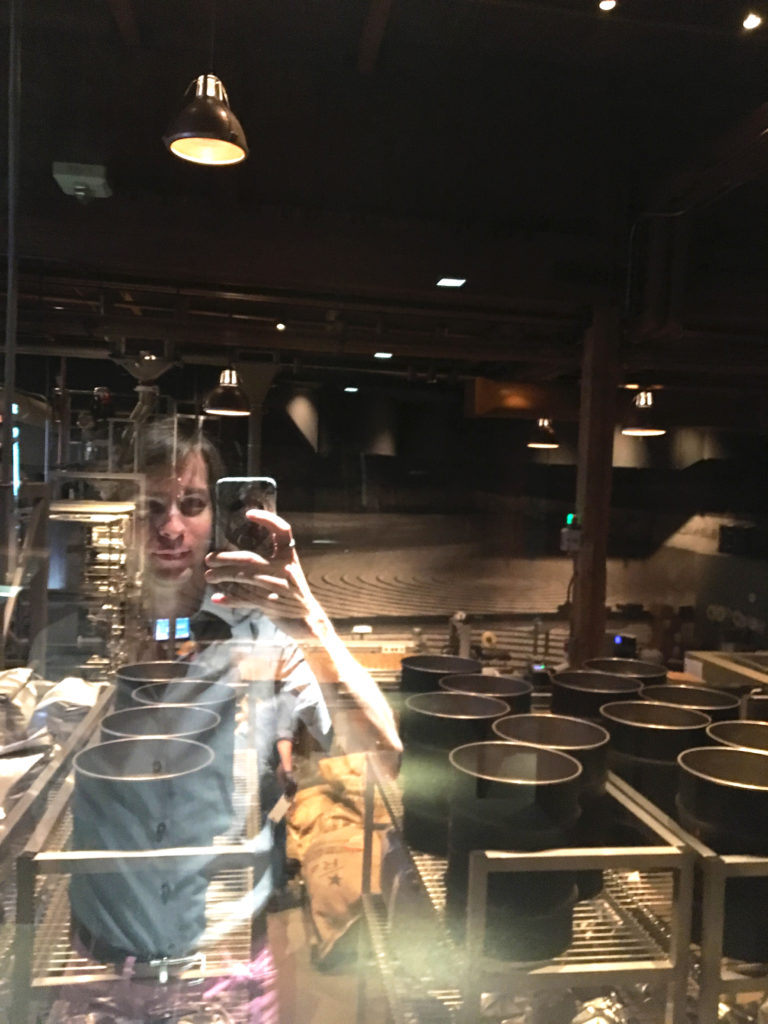 This was a pretty fantastic experience. There are only three Starbucks roasteries in the world right now (Seattle, Shanghai, and a brand new one in Milan) but there are a couple more opening soon and I'd definitely go to them if I have the chance.
The team from work was here too and we had a good day of exploration and fact-finding. It was still a workday after all.
Andrew
After work I walked over to Dick's Drive-In and met my friend Andrew.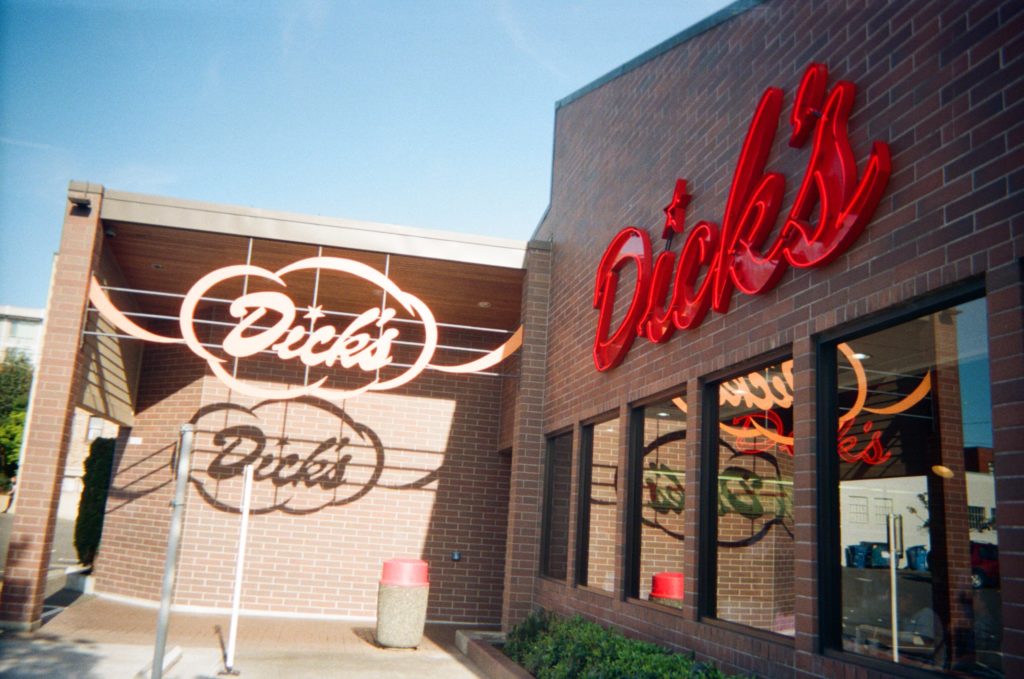 I think the point of Dick's is so you can say "Hey, I'm gonna go get some Dick's later on" or "Anyone wanna grab some Dick's with me?" So, yes, Andrew and I got some Dick's together. Andrew is an old friend that I met online in the SOTSS and then Legacy days. Now he's a biology teacher in nearby Renton.
The burgers at Dick's were atrocious but the shake was good and the price was right. After Dick's, we walked up towards the South Lake Union neighborhood. We stopped and saw these weird statues outside the Allen institute, which I later found out are by the same sculptor that did the compressed Echo head I'd seen my first night here – Jaume Plensa. I guess the guy has a style.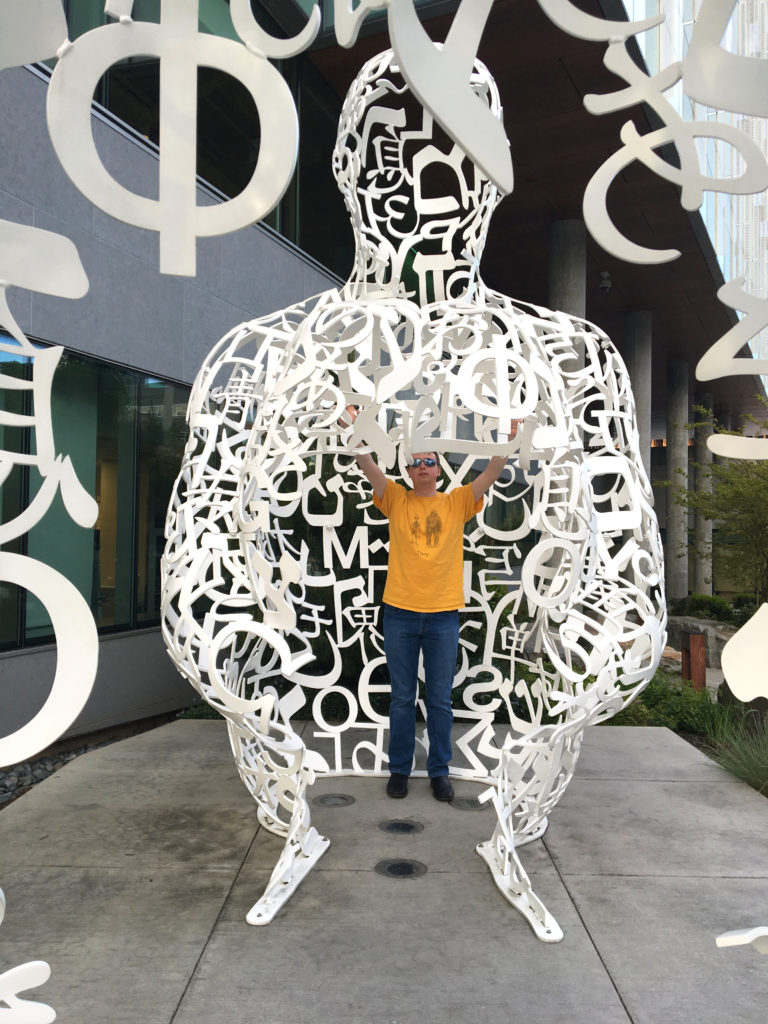 We walked up to Lake Union and through Lake Union Park, passing a museum that I vowed to check out another time. The lake was beautiful and it seemed like it was well-appreciated by the inhabitants here too.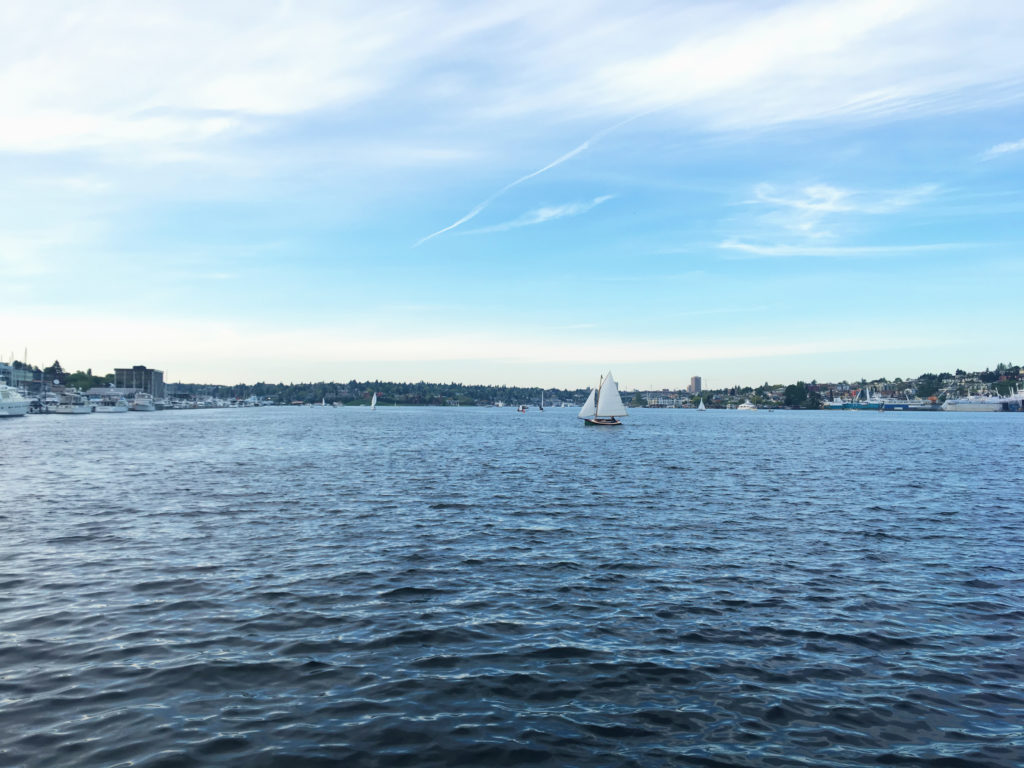 Then we walked to the nearby bar/restaurant El Chupacabra SLU. This location of this restaurant no longer exists as of September 2018, and the building is slated for demolition now.
I was to meet my other friends here, and Andrew had to get going, so we got a quick photo together first: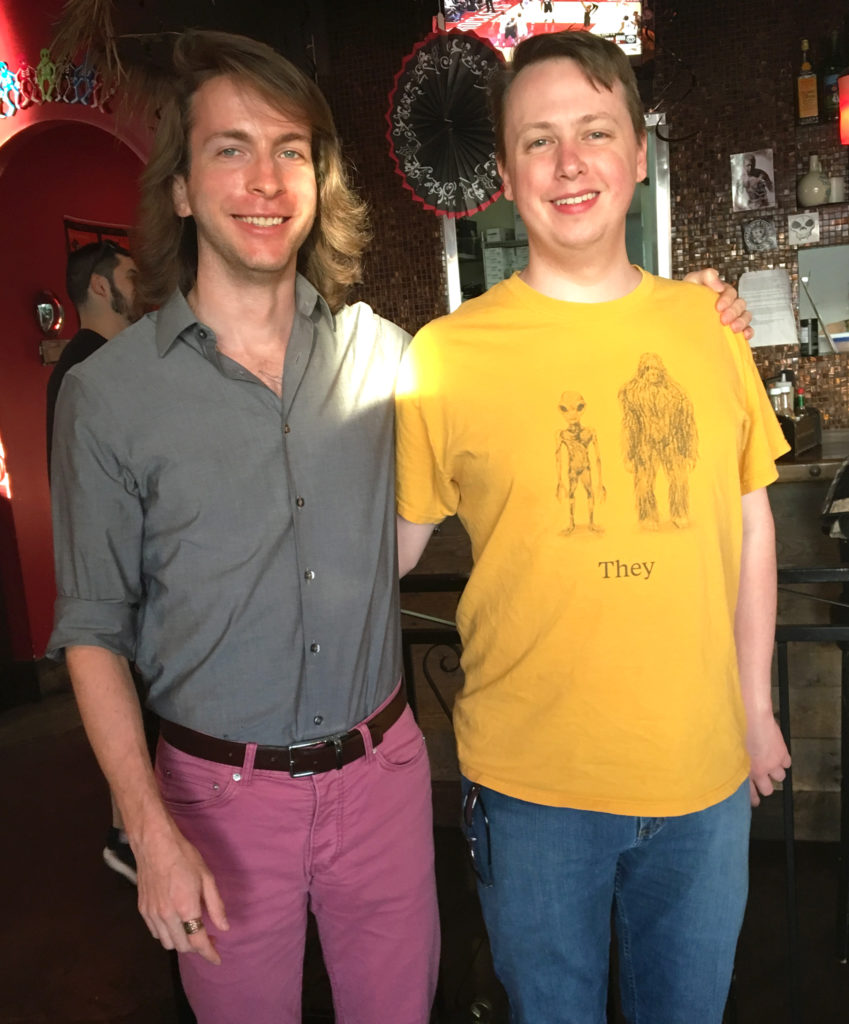 Eric & JT
Right as he was leaving, my other two friends, Eric and JT, arrived. Eric and Andrew had met before back in college during a new media art project we did called Johnson Superior, and JT had seen Andrew around at some point too, so I got this photo of them all together while timing was right: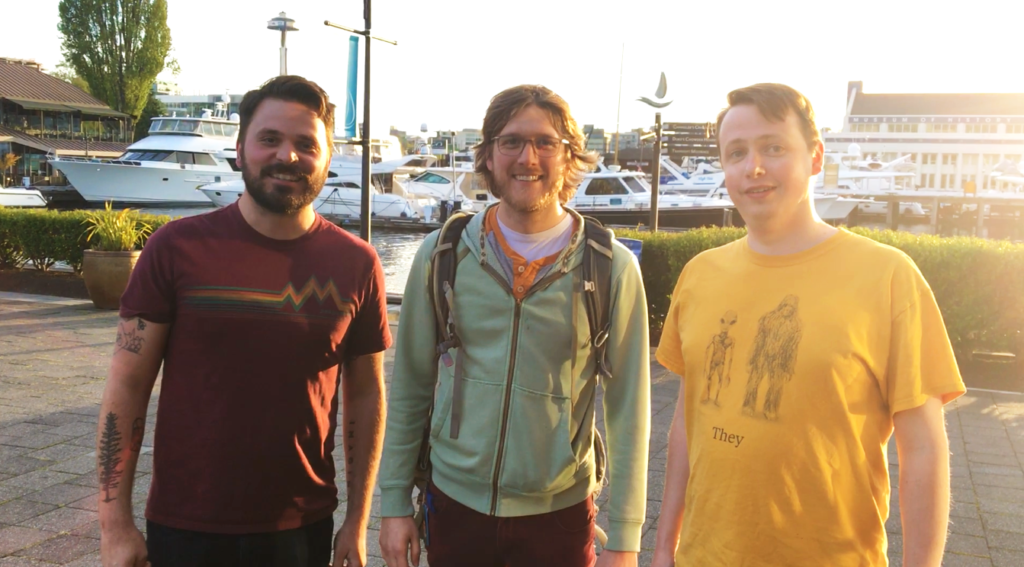 Then Eric and JT and I went in and had some drinks. Eric was my college roommate at Columbia, and JT was a good friend who lived a few blocks away. Now, Eric is a graphic designer at Microsoft and is an illustrator and photographer on the side, while JT is an audio engineer at Amazon and just bought a house. We had a lot to catch up on.
A few hours later, Eric drove JT to a bus stop and dropped me off at my hotel. Spectacular night.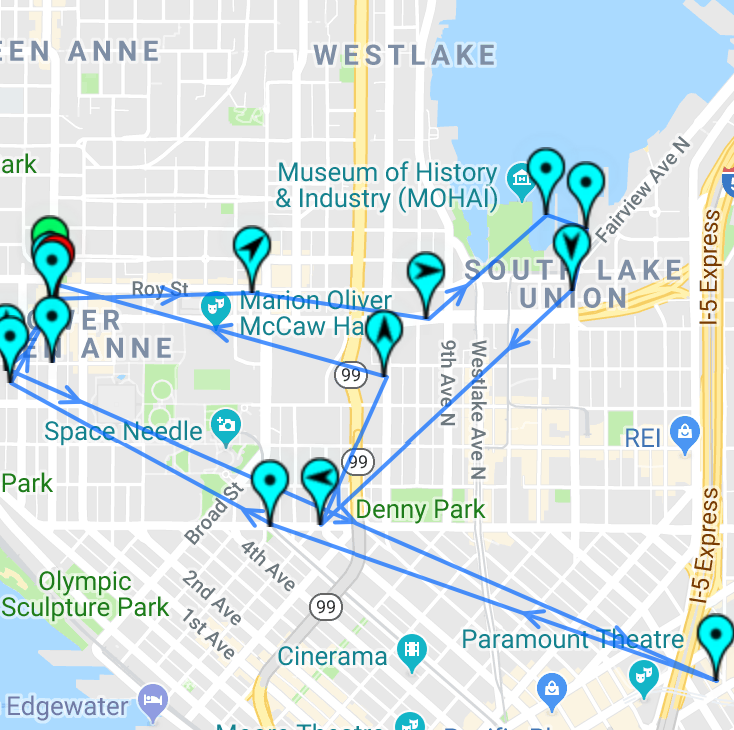 The End
2018-05-03: The next day, I worked in the morning and flew back home later in the afternoon.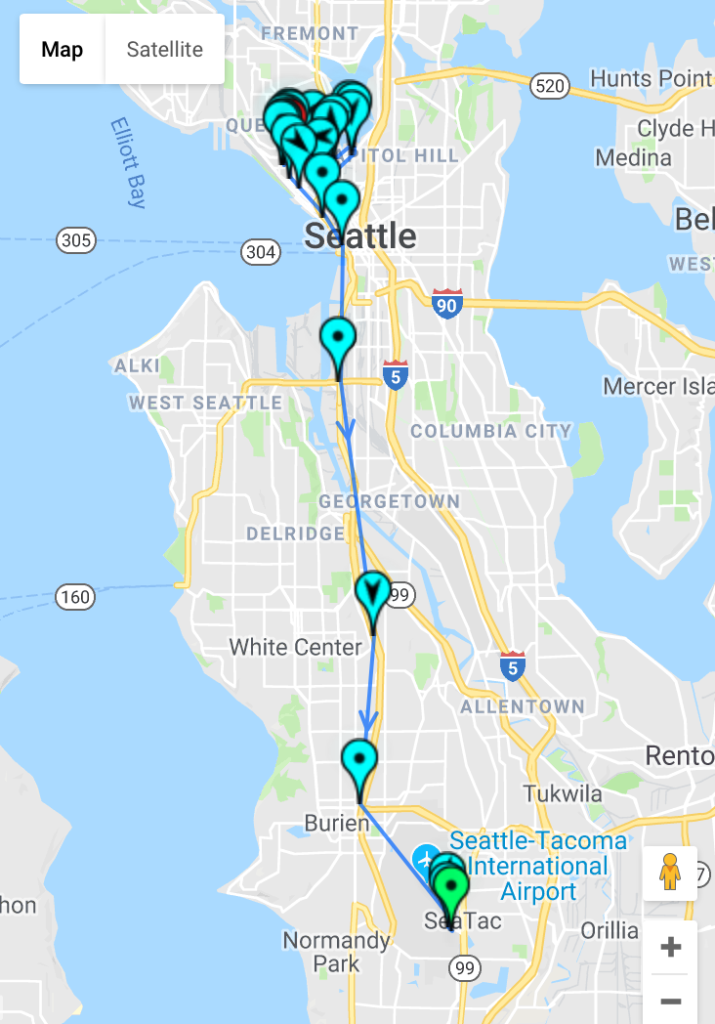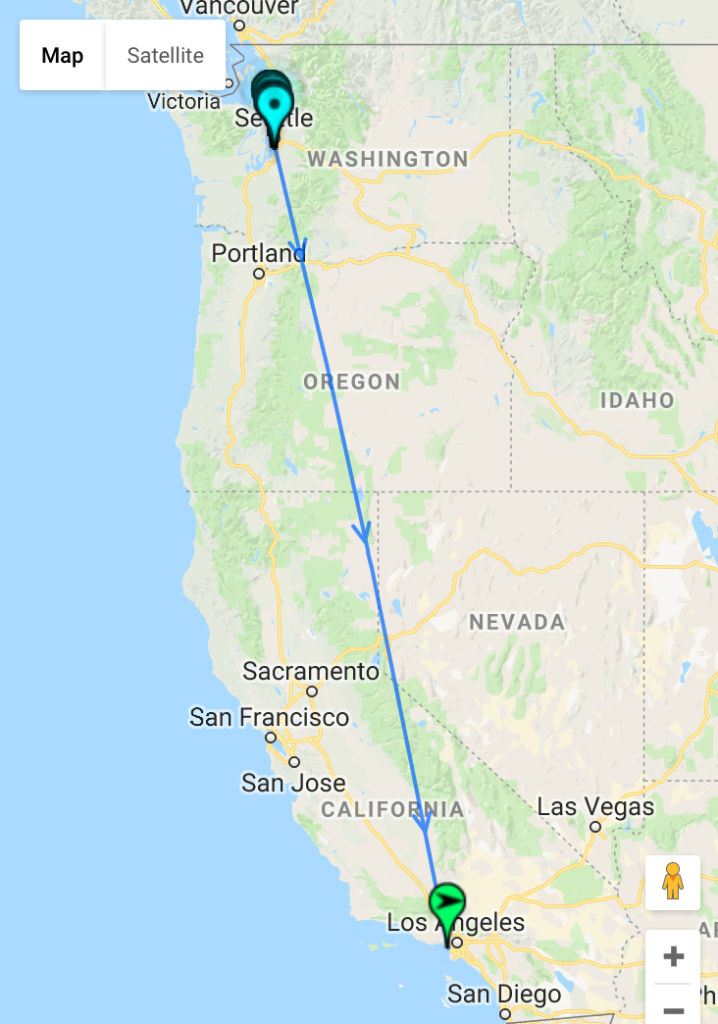 My first trip to Seattle had been a blast. Little did I know how soon I'd be back! But first came another adventure in Los Angeles…